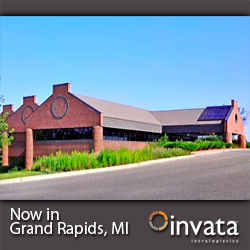 The new office provides us a permanent presence in the western Michigan area.
Conshohocken, PA (PRWEB) May 19, 2014
Invata Intralogistics, Inc., a global provider of purpose-built intralogistics systems, warehouse automation, warehouse software, and controls, today announced the company has opened a Grand Rapids, Michigan location.
The stimulus for the company expansion came from a combination of increased business demand and expanding employment by Invata in the Grand Rapids area. The decision to formally open an office in Grand Rapids gives the company strategic access to the wealth of material handling talent and experience in the western Michigan region.
Having been in the works for some time, the expansion is a part of Invata's plan to continually grow its capabilities and experience in material handling systems and automated storage and retrieval systems in particular.
"The new office provides us a permanent presence in the western Michigan area," said Charlie Zebell, Vice President of Systems Integration at Invata. "This location not only provides us with a home for our present team members, but allows us to expand as Invata continues to grow. We are committed to the Grand Rapids marketplace and appreciate being part of the community."
"We have had a presence in western Michigan now for some time now," said Jay Moris CMO of Invata. "This office allows us to get everyone under one roof, linking them together and to our other offices around the country. We recognized the strength of the people in the Grand Rapids area and look forward to expanding our employment effort here in the future."
The new office is located at 3205 Eaglecrest Drive NE, Suite 204, Grand Rapids, Michigan 49525. The main phone number is: (860) 819-3200.
About Invata Intralogistics
Invata Intralogistics, Inc. is an authority in the design, implementation, and life cycle support of automated fulfillment and distribution center operations with demonstrable expertise in both software and systems engineering and development.
Specializing in the symbiotic integration of the flow of information with the flow of material goods, Invata offers complete solutions that begin with in-depth operational analysis and end with purpose-built, turnkey intralogistics systems that optimize processes and resource utilization while maximizing operational efficiency.
The result is a seamless synthesis of process and technology that engenders leaner, more productive, more adaptable, and more profitable fulfillment and distribution enterprises.