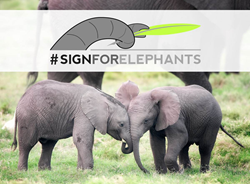 If the situations were reversed, and elephants and rhinos were hunting us for our bones, we'd pray for their mercy and wisdom. And we'd probably get it. - Keith Croes of Williamsburg, Virginia
Washington, DC (PRWEB) May 20, 2014
Every day, Americans call for the end of all ivory sales without "antique" exemptions. Mothers, fathers, daughters, sons are signing to oppose a commerce built on elephant extinction. Ivory trade funds militant organizations across Africa, destroys lives, and robs future generations of a world where wild elephants thrive.
Children learn "E" is for Elephant, not Extinction. Banning ivory commerce will turn the tide for elephants, enhance African security as well as the national security interests of the United States, and ensure a responsible environmental stewardship for future generations
For the "We the People" petition link to ban ivory, visit: http://wh.gov/lGl3J.
To discover the supporters of this petition, visit: http://www.elephantsUSA.org.
For an article published in The Hill on May 19 about the petition, visit: http://tinyurl.com/nr7ymjv.
Ivory Trade
Reputable field organizations; large NGOs; and the U.S. government report that more than 35,000 elephants were slaughtered last year in Africa for ivory.
U.S. is the second largest consumer of ivory after only China.
Please watch this short video on the true cost of ivory products in 2014: http://vimeo.com/76119923.
Wildlife Conservation Society (WCS), The David Sheldrick Wildlife Trust, The Humane Society of the United States-United Society International, Born Free USA, ElephantVoices.
Moving Forward:
There will be a federal Advisory Council on Combating Wildlife Trafficking meeting on June 9. We will be bringing as many signatures as we have collected via the White House petition and presenting them to the council members.
We will continue to encourage states to ban ivory trade domestically while calling for the federal government to end the commercial ivory trade after the petition has ended. America needs to be a leader against wildlife trafficking. Ending the bloody ivory trade for global security and future generations is a bipartisan issue.