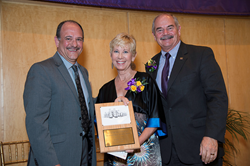 West Chester, PA (PRWEB) May 17, 2014
Kathy Davis, former teacher turned artist and entrepreneur, received a 2014 Distinguished Alumni Award from West Chester University in West Chester, Pennsylvania. The awards are presented annually to WCU graduates who have provided a great service to society, received outstanding acknowledgement in their profession and positively affected a large number of people.
At the awards ceremony, Kathy Davis was introduced by former teacher and long-time friend, John Baker. Professor Baker, who is today West Chester University's Art Department Chair, spoke of the energy, passion and joy Kathy has shown in life and in her creative efforts. He also thanked her publicly for her many contributions to the art students and art programming at WCU.
In accepting the award, Kathy herself thanked John Baker, the university and the alumni association for honoring her. She also shared her seven simple secrets for success from her recently-published book, Simple Secrets: 7 Principles to Inspire Success.
Kathy Davis received her degree in Elementary Education from West Chester University, and today, she guides the brand that bears her name. With a growing staff and an extensive portfolio of nearly 40,000 images, she acts as chief visionary of Kathy Davis Studios, a leading design company based in Horsham, PA, serving the gift, home decor, fashion and social expression industries. Kathy is the author of several books, in addition to Simple Secrets. These include Love Blooms in a Mother's Heart: A Celebration of Motherhood and Scatter Joy – Create a Life You Love.
Kathy's brand promise to "Scatter Joy: Joy through Art, Joy through Living, Joy through Giving" permeates all of her designs and is expressed in numerous ways. Through her colorful art and inspiring messages on the products she creates, Kathy scatters joy to more than 70 million consumers worldwide each year. Furthermore, Kathy Davis Studios is known for its charitable giving efforts and support of the arts, and one of Kathy's dreams is to create a Scatter Joy Center for the Arts. For more information, please visit http://www.kathydavis.com.