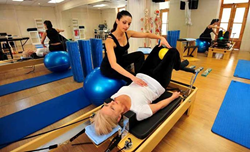 There is a lot of local excitement surrounding the opening of both studios.
(PRWEB) May 19, 2014
Company director and coach Tamara Gollan announced the news on a video message entitled A delaide Glenelg Pilates & Barre Studio Opening Soon. The Glenelg location in Hyde Park is actually set to be the home of two locations which will sit side by side.
One of the studios will focus on Clinical Pilates exercise routines and the other will be devoted to the teacher of Barre classes. Pilates is enjoying a resurgence in the city while Pilates is an increasingly popular new exercise movement.
Former professional dancer Gollan describes why both studios differ and in what in her video and which can also be seen via the article A Message from Our Director from New Hyde Park Location on her Inner Strength Pilates website.
The company recently opened their third studio in Hyde Park – classes for which have already become very busy and are, in many cases difficult to book if not done so within days of being made available. It's also possible to book a whole course of classes at a time and in doing so reserve a place for classes months down the line.
Gollan said: "Pilates and Barre really is a fabulous workout for the entire body. One of the great things about the exercise routines is that they can be tailored to suit individual needs and desires.
"For instance there are personalised workouts available for pregnancy and post-natal conditions as well as sports injuries, back pain and headaches – a whole host of conditions in fact."
Both Glenelg studios are set to open in early June – which is difficult to believe considering the masonry work and equipment currently being delivered on a daily basis, added the excited director.
She added: "Right at this moment in time we have builders in both studios. There are ceilings going up, walls coming down, floor boards being varnished, walls painted and mirrors being put up everywhere.
"For the Barre studio all the equipment is being attached to the walls as we speak. I know I have a bit of a vested interest here but I really do believe that when finished it's all going to look amazing."
Those interested in attending either the clinical Pilates or Barre classes can book a place now via the Inner Strength Pilates website under the link Book Class on the top of the home page in blue letters. It's advisable to book quickly in order to avoid disappointment.
Gollan said surveys the company had conducted had shown that Hyde Park was an area where the Pilates and Barre exercise routines would be favourably received. Meanwhile class bookings to date – both on and off-line - have shown this to be very much the case.
She added: "As a company we have received an awful lot of positive feedback about opening in the Glenelg area of Hyde Park," she said. "There is a lot of excitement surrounding the opening of both studios and personally I can't wait for the studios to open myself so that I can harness and use all that excitement in the classes. And better still, I'm looking forward to seeing all the positive results such as toning and flexibility that even just a few weeks of Pilates or Barre exercise can achieve.
"I'd urge anyone who lives in the Hyde Park area, or who have family there, to come and find out what we're about. The exercise routines really can help individuals cope with and overcome aches and pains. Weight loss, toning or rehab or also big benefits."
As mentioned above, the classes can be booked via the online timetable or by contacting the company directly on their website here. News on the progression of the two new Glenelg studios, as well as information on the three other Inner Strength Pilates studios can also be accessed via the company's regularly updated Facebook page or both Google Plus accounts.