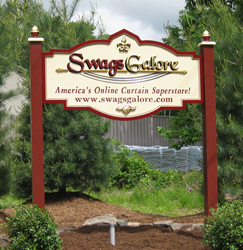 Having more space, means having more products.
Lakeville, PA (PRWEB) June 10, 2014
The extension of Swags Galore's corporate headquarters has recently finished construction, providing the ultimate online curtain superstore with 3,000 more square feet of space to store and package its items. The retailer has been anticipating the completion of renovations over the past seven months, and is now excited to have the capacity to carry even more inventory and service an even greater number of customers across the country.
Melinda and Eugene West first started the business back in 1999 in Shirley, New York where they both resided at the time. As the first online superstore for curtains, the revolutionary retailer was met with fast growth and success, prompting the couple to move their operations from Shirley to Lakeville, PA in 2007 where they contracted C & M Sales to construct a corporate headquarters for the company. C & M Sales, Inc. has also been the contractor to complete all of the additional work for the building since 2007.
Swags Galore's headquarters originated with 6,000 square feet of space- 4,500 sq. ft. of warehouse used for storage and distribution and 1,500 sq. ft. of office space for administrative work. Since taking off, the online curtain retailer has added multiple extensions to its warehouse to accommodate for the growth of its inventory and sales.
The company's owners take pride in offering customers the widest variety of curtains and complimentary window products, which is why they continue to add new collections and product variations to their inventory, demanding more space for operations.
The first extension was completed back in September of 2009, adding an extra 3,000 sq. ft. of space to the warehouse. The most recent project began construction in October of 2013 and was just completed this month, adding another 3,000 sq. ft. of space to the structure. Swags Galore's newest extension has completed the headquarters, which now includes a 7,500 sq. ft. warehouse, 1,500 sq. ft. of office space, and the newly added 3,000 sq. ft. building used as a showroom/warehouse.
The new extension includes a building with a Butler steel-frame, a paved parking lot, additional awnings, and new corporate building signs. The landscaping work was completed by Privacy Pines located in Greentown, PA, and the signs by Hunt Signs in Honesdale.
The retailer's ongoing developments demonstrate the growth and success it has experienced since first taking off. Materializing Melinda's vision to offer low cost swag and scarf window panels in a variety of colors, sizes, and styles, Swags Galore has quickly developed into America's ultimate online curtain superstore. The company continues to exceed its wildest expectations as more and more customers turn to the highly-acclaimed curtain guru for all of their window decorating needs.
For additional information on Swags Galore or its window décor products, please visit: SwagsGalore.com.
About Swags Galore Inc.:
Swags Galore was founded by Melinda and Eugene West of Shirley, New York in 1999. It was Melinda's vision to sell affordable window treatments online and in 1999 she designed and launched their first website, originally selling scarf panels she made from home. In 2000, the business outgrew Melinda and Eugene's home and they expanded into a warehouse in Yaphank, New York, quickly out growing that. In 2005, Melinda and Eugene made the decision to move to Lakeville, Pennsylvania where they built their corporate headquarters and distribution center. Today, the company is the leader in their industry, selling low-cost window treatments to retail consumers. To learn more about Swags Galore and their products, visit http://www.swagsgalore.com.