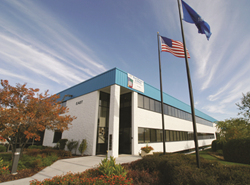 Inpro is not just a corporate environmental steward. Its corporate culture creates an environment where each team member from the CEO on down through sales, marketing, manufacturing, operations and everywhere in between serves as a steward.
Milwaukee, WI (PRWEB) May 20, 2014
Wisconsin Manufacturers & Commerce (WMC), the state's chamber of commerce, has honored Inpro as a Business Friend of the Environment for 2014. The WMC recognized the company as a laudable practitioner of Environmental Stewardship.
The WMC award completed a trifecta of major sustainability activities at Inpro over the last month. In addition to the Stewardship Award, the company completed a hugely successful Cool Choices game to boost sustainability awareness, and Inpro cut the ribbon on a new honey bee sanctuary to combat the colony collapse epidemic.
For the past 25 years, Wisconsin Manufacturers & Commerce (WMC) has sponsored the annual Wisconsin Business Friend of the Environment Awards program. An independent panel of judges representing industry, environmental groups, the Department of Natural Resources, and the University of Wisconsin select the Business Friend of the Environment winners.
__________
About Inpro
Since 1979, Inpro has been making and servicing products with an obsessive commitment to protecting the appearance of buildings and the health and safety of the people who use them. Based in Muskego, Wisconsin, Inpro is the nation's premier manufacturer of door and wall protection, washroom systems, expansion joint systems, privacy systems and architectural signage.