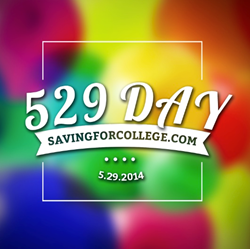 The main objective of 529 Day is to drive awareness of these beneficial college savings vehicles.
Pittsford, New York (PRWEB) May 20, 2014
In honor of National College Savings Day taking place on May 29, 2014, Savingforcollege.com is helping to increase 529 plan awareness by compiling details of the various nationwide contests, sweepstakes and events held by individual state college-savings plans.
A list of over twenty different promotional events has been collected thus far by Savingforcollege.com as part of its "529 Day" coverage and includes everything from discounted admission to local sporting venues and museums in Tennessee to a $15,000 sweepstakes contest in Georgia.
As the country's leading independent authority on 529 plans, Savingforcollege.com is also spearheading its own 529 Day special event by hosting a live online "Q&A" town-hall style webcast at 1pm Eastern on May 29. The webinar will be moderated by The New York Times reporter Tara Siegel Bernard and will feature a panel of three leading experts in the college savings industry.
Savingforcollege.com founder Joe Hurley, author and consultant Lynn O'Shaughnessy, and Forbes.com college columnist Troy Onink will address commonly asked-about college planning topics. They will also field question submitted by the webcast audience. Anyone can sign up to attend this free 1-hour event, and in doing so, will be entered into a drawing for an Amazon Fire TV. Registrants will also receive a free personalized 529 plan analysis courtesy of the webcast sponsor, GradSave.
"The main objective of 529 Day is to drive awareness of these beneficial college savings vehicles," said Marie Osypian, Chief Operating Officer of Saving For College LLC. "We think our webcast will help clear up uncertainties that may be holding parents back from using a 529 plan to save for college, as well as answer any other questions they may have about affording college."
As part of the 529 Day promotion, free electronic downloads of Savingforcollege.com's Family Guide to College Savings are now available to public for limited time, made possible by the sponsorship of Legg Mason. This easy-to-read guide is perfect for new parents or grandparents who are exploring their options in planning and saving for college.
More information on 529 Day and registration for the Q&A webcast may be found here.