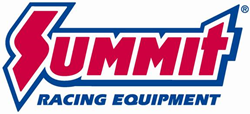 Tallmadge, OH (PRWEB) May 28, 2014
The Comp One Diesel Performance Kit available at Summit Racing boosts output by up to 250 horsepower and 500 lb./ft. of torque without excessive exhaust gas temperatures (EGTs). Using water-methanol injection, the Comp One kit lowers combustion temperatures, which in turn results in a 250-300° F drop in EGTs.
The kit is the most comprehensive and technologically advanced system on the market. The included tuner comes pre-loaded with water-methanol system programming, providing a 150+ horsepower increase over the factory tunes. Installation is virtually plug-and-play using the truck's diagnostic port. The water-methanol injection system allows you to safely use these "hot tunes" for even more dramatic power increases.
This Snow Performance Comp One Diesel Performance Kit includes everything you'll need, including a seven-gallon reservoir and an intuitive touch-screen virtual dashboard controller that can be configured to display key parameters and diagnostic tools.
On 2007 and newer Diesel Particulate Filter (DPF)-equipped vehicles, this system reduces soot and NOx emissions. It also helps maintain fuel economy without damaging the DPF system.
Applications

2003-10 Ford F-250/350 Super Duty 6.0L/6.4L Powerstroke
2001-14 Chevy/GMC 2500/3500 HD 6.6L Duramax
• 2003-07 Dodge Ram 2500/3500 5.9L Cummins
See the Snow Performance Comp One Diesel Performance Kit at Summit Racing.
Summit Racing Equipment
http://www.SummitRacing.com
1-800-230-3030