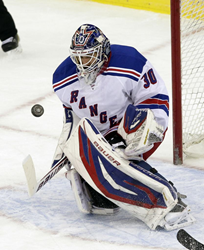 Denver, Colorado (PRWEB) May 17, 2014
This year's NHL Playoffs kicked off with frantic first round that included a number of Game 7's and unbelievable comebacks. In other words, parity in the league, higher profits for the teams and their venues, and more value for the sport's voracious fans.
The hard-hitting match-ups only intensified with two series turnarounds and a contentious end to the quarterfinals as three more series needed the maximum number of games heading into the conference finals.
The surging Montreal Canadiens defeated the Boston Bruins, 3-1 in Game 7 Wednesday night to set up an Original Six Eastern Conference final against the New York Rangers. Max Pacioretty scored the game winner, and Carey Price made 29 saves to help Montreal reach the third round for just the second time since winning their NHL-best, 24th Stanley Cup title in 1993.
Montreal trailed the Boston Bruins 3 games to two but stellar goal-tending from Price in the final two meetings helped lift the Canadiens into the next round.
Meanwhile, the New York Rangers came back to stun a frustrated Sidney Crosby and the reeling Pittsburgh Penguins in Game 7 on Tuesday night. Down 3 games to 1 after faltering early in the series, the Rangers rallied behind Henrik Lundqvist, who made 35 saves and tallied a .972 save percentage to lift New York to a 2-1 win and a spot in the Eastern Conference Finals.
After allowing four goals on 27 shots in Game 4, Lundqvist allowed just three goals on 105 shots in Games 5, 6 and 7. He is currently tied for the League lead with a .931 save percentage, while his 1.99 goals-against average is second. In his past 12 elimination games, he is 10-2 with a 1.32 goals against average, .957 save percentage and two shutouts.
"Another rowdy round of NHL hockey has pushed playoff tickets back into our top trending list. Currently the Rangers, Blackhawks, and Canadiens are leading the pack ahead of the semi-final round," said Marta Ault at online ticket marketplace BuyAnySeat.com.
"That's why we're proud to offer fans the most comprehensive and continuously refreshed selection of sports tickets online, with a worry-free guarantee to protect their purchase," added Ault.
"To access the complete inventory of cheap NHL Playoff tickets tickets we have available – as well as the entire inventory of seats available – fans can go to BuyAnySeat.com and search for NHL Playoffs – then select their tickets."
In the west, Chicago charged into the semifinals Tuesday night when Patrick Kane scored on a backhand at 9:42 of overtime. The Blackhawks were outshot in the final game but overcame a furious final assault by the Wild to earn a 2-1 victory in Game 6.
Chicago is no stranger to playoff drama. Last year's Stanley Cup Final ended with three overtime finishes in the last six games, the kind of neck-and-neck battle of which legends are made. The series between the Boston Bruins and Chicago Blackhawks began on June 12, 2013 and lasted until June 24.
It was the first Stanley Cup Finals series between two Original Six teams since 1979, and the seventh since its first expansion in 1967. In Game six of the Finals, trailing the Bruins 2–1 with 76 seconds left in the third period, the Blackhawks scored two goals in 17 seconds to close the series 4–2.
The Conference Finals will begin today, Saturday, May 17, with Game 1 of the Eastern Conference series between the Montreal Canadiens and New York Rangers. The puck will drop on the Western Conference Finals Sunday as the Chicago Blackhawks faceoff against the winner of the Los Angeles Kings and the Anaheim Ducks. Results were not available as of press time.
To shop for cheap NHL Playoff tickets, visit BuyAnySeat.com. To save to even more, enter coupon code "BAS2014" during checkout.
About BuyAnySeat.com: An online ticket marketplace, BuyAnySeat.com connects sports, theater and other live entertainment fans to an extensive network of ticket sellers worldwide. The site's simplified listings and navigational tools enable shoppers to easily locate, compare and purchase inexpensive, discounted or lower-priced tickets to virtually all advertised sports and entertainment events around the globe.
The ticket marketplace, which is PCI-compliant and Norton Secured, also provides customers with a complete Worry-Free Guarantee on all ticket purchases. Based in Denver, Colorado, BuyAnySeat.com is a subsidiary of Denver Media Holdings. For more information, please visit http://buyanyseat.com.