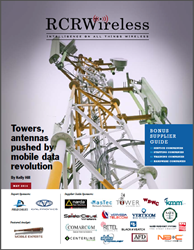 Wireless networks are facing significant changes in how they are built and used, due to the huge increases in the amount of traffic, as well as the shift to network traffic being generated indoors.
Austin, Texas (PRWEB) May 19, 2014
The increasing load on macro sites and issues posed by trying to support increasingly varied spectrum bands and generations of technology while minimizing infrastructure footprints are some of the biggest challenges facing the wireless industry today, according to findings from T-Mobile US, 3M, Alcatel-Lucent, and others. 'Towers, Antennas Pushed by Mobile Data Revolution,' the latest report from RCR Wireless News, examines these industry-wide trends and challenges. New network technologies and standards-based features are driving changes at macro cell sites, and networks are moving toward hetnets with the advent of small cells and the increasing focus on indoor coverage through technologies such as distributed antenna systems.
Download this report to learn:

The changing face of the network, from macro sites to small cells and DAS.
Major trends in antennas and technology.
Different industry views on the state of wireless infrastructure.
Tower safety and concealment issues.
Recently introduced components.
Bonus: Supplier guide for tower services, staffing, training and hardware.
Watch the complimentary editorial webinar featuring:

Kelly Hill, Technology Reporter, RCR Wireless News
Joe Madden, Principal Analyst, Mobile Experts
Dave Mayo, SVP Technology, T-Mobile US
Christos Karmis, President, Mobilitie
"Wireless networks are evolving in how they are built and used, due to the huge increases in the amount of traffic, as well as the shift to network traffic being generated indoors," said RCR Wireless News Technology Reporter Kelly Hill. "Antenna technologies are changing in order to keep up with network demands, and both the industry standards and real-world conditions make for some significant technical challenges."
RCR Wireless News garnered insight from experts across the infrastructure ecosystem on the state of the industry, the role of small cells and DAS vs. the macro site, and both regulatory and standards-based initiatives that are in motion that hold potential impacts for the tower industry. The report explores issues and trends in site configuration, network densification and the impacts of multi-band deployments due to spectrum fragmentation in LTE. It also includes a snapshot of recent infrastructure investments by each of the four national wireless carriers and their ongoing work to roll out the latest advances in their networks.
"As the amount of people starting to use streaming data and video through LTE devices increases, as carriers implement VoLTE – all those types of things require modification to the network to support it all," said Christos Karmis, president of Mobilitie. "You're never really done."
Click here to download the report.
About RCR Wireless News
Since 1982, RCR Wireless News has been providing wireless and mobile industry news, insights, and analysis to industry and enterprise professionals, decision makers, policy makers, analysts and investors. Our mission is to connect, globally and locally, mobile technology professionals and companies online, in person, and now on video. Our dedication to editorial excellence coupled with one of the industry's most comprehensive industry databases and digital networks leads readers and advertisers to consistently choose RCR Wireless News over other industry publications. http://www.rcrwireless.com