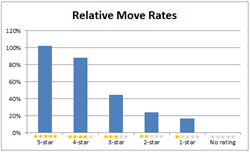 The data suggests that a 5-star rated community is over 100 percent more likely to get a move than a community with no ratings or reviews.
Austin, TX (PRWEB) June 04, 2014
SeniorAdvisor.com, the premier ratings and reviews site for the senior living industry, announces results from a study conducted with A Place for Mom (APFM), the nation's largest senior living referral service.
STUDY REVEALS HOW ONLINE REVIEWS AFFECT PURCHASING BEHAVIOR OF SENIOR CARE SEEKERS
In Q4 of 2013, APFM began including ratings and reviews from SeniorAdvisor.com into the referral emails sent from APFM Senior Living Advisors to their customers. Prior to the study, these referral emails contained contact and location information for properties matching the care needs and budget requirements discussed with the potential resident and their families. The study was launched in two test regions, before expanding to half of the country. The referral emails in the test regions included the overall star rating and a recent review for the property from SeniorAdvisor.com; the letters in the non-test regions did not.
The results show a striking correlation between a community's consumer-provided star rating and its move-ins. The data suggests that a 5-star rated community is over 100 percent more likely to get a move than a community with no ratings or reviews. On average, communities with any rating had higher move rates than those without, suggesting that consumers have more confidence in communities with reviews. Additionally, consumers exposed to community reviews were 74 percent more likely to schedule a tour of four- and five-star locations, than those who were not provided community feedback at all.
HAVING POSITIVE ONLINE REVIEWS GIVES SENIOR LIVING COMMUNITIES A COMPETITIVE EDGE
Including the reviews and ratings in the APFM referral emails has already resulted in a 7-10 percent increase in overall move rates for APFM partners. Based on the overwhelming success of the study, APFM and SeniorAdvisor.com expanded the initiative into all remaining markets across the United States in April 2014, so all families will see ratings and reviews alongside their referred providers. The companies expect the correlation to grow as families become increasingly aware of this powerful new information source. This study shows that communities who deliver excellent service, encourage their residents to review, and manage their online reputations have a distinct advantage over their competitors.
"Each day, my goal is to present a diverse range of families with the best senior living options for their loved ones," said Lin Hammer, Senior Living Advisor, A Place for Mom. "SeniorAdvisor.com helps families feel more confident about this complex research process by providing access to the objective, third party feedback they need. Furthermore, the reviews offer Advisors like myself an opportunity to drill down further on the top priorities of each potential resident."
SENIOR LIVING PROVIDERS CAN GET STARTED WITH FREE REVIEW JUMPSTART FROM SENIORADVISOR.COM
To help senior care providers build and leverage their reviews, SeniorAdvisor.com is now offering a free Review Jumpstart Kit, which includes advice on how to gather and utilize online reviews. It also provides access to new tools such as postcards that allow visitors and customers to submit reviews by mail, a customizable widget that enables providers to highlight top reviews on their website and personalized flyers they can print and share with potential customers. For more information on the study discussed in this press release, please visit the SeniorAdvisor.com blog.
ABOUT SENIORADVISOR.COM
SeniorAdvisor.com is the premier consumer ratings and reviews site for senior living communities nationwide. The innovative website provides easy access to the information families need when making a senior living decision, and features trusted reviews and advice from local residents and their loved ones. For more information, please visit http://www.SeniorAdvisor.com.