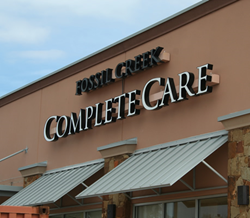 "Freestanding emergency rooms help bridge the gap between the traditional hospital based emergency rooms and urgent care clinics."
San Antonio, TX (PRWEB) May 20, 2014
The new Fossil Creek Complete Care medical facility is located at 22250 Bulverde Rd in San Antonio, and as a state licensed freestanding emergency room, Fossil Creek Complete Care is able to treat all the same major medical emergencies that a traditional hospital emergency room can treat, but in a less crowded, more comfortable environment with more personalized care.
The Fossil Creek Complete Care facility features 8 private patient rooms and state of the art diagnostic technology including digital X-ray, CT scanning, and ultrasound. Fossil Creek Complete Care also has a fully certified CLIA lab on site for crucial blood work and urgent lab results, and they are staffed by board certified emergency room physicians and registered nurses with vast experience in emergency medical care.
The Fossil Creek Complete Care location was formerly home to Fossil Creek Urgent Care, a highly regarded urgent care clinic in San Antonio in operation since 2011. The former facility underwent an extensive remodel in order to meet all of the stringent state licensing requirements for a freestanding emergency room in Texas. The goal with the transition to a freestanding ER was to be able to provide both minor and major medical care to patients in the surrounding community. "Freestanding emergency rooms help bridge the gap between the traditional hospital based emergency rooms and urgent care clinics," says Dr. Dan Mosely, an ER doctor at Fossil Creek Complete Care.
The staff was much more limited as an urgent care clinic in the medical services they could offer, but now with a fully equipped, state-of-the-art medical facility and board certified emergency room physicians, Fossil Creek Complete Care can handle practically any emergency medical situation no matter how major or minor it may be.
Fossil Creek Complete Care is open 24 hours a day 365 days a year to serve the San Antonio and surrounding community. They can be reached by phone at (210) 401-8185 or in person at 22250 Bulverde Rd #120 San Antonio, TX 78261. No appointment necessary.