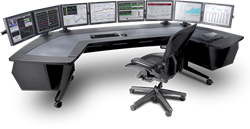 Software KVM switch technology dramatically lowers costs and enhances multi-pc station capabiltiies.
(PRWEB) May 19, 2014
Leading IT organizations are adopting software KVM, the hardware KVM switch technology alternative that dramatically lowers costs and enhances multi-PC station capabilities. Expect more companies to follow, says David Geer IT and technology news writer.
In a sponsored study, Geer shares his findings on software KVM switch adoption and the advantages it provides over hardware KVM switch technology at respected global brands across a broad set of industries.
The study can be found at http://edgerunner.com/multiplicity/articles/david-geer/virtual-kvm-ready-for-mainstream-adoption.
Key findings and user validation from the study include:
"Hardware virtualization increases utilization and efficiency. Virtual KVM is a good example," says Dr. Mike Jude, PhD., Analyst, Frost & Sullivan"
"My Multiplicity software KVM switch made it easy to drag and drop files from one PC to another, which is a real time saver," says Jackson Presley, Celebrity Web Designer; "virtual KVM buys back a full work day every month."
"Bank of America / Merrill Lynch went from a handful of traders using Multiplicity KVM switch software to more than 500 users globally and growing," says Matthew Misciagna, VP, Bank of America."
With a software KVM switch, a user can simultaneously control multiple PCs using each PC's individual dedicated monitor with just the keyboard and mouse (a seamless connection) and with keyboard, mouse and just one monitor (the KVM connection); hardware solutions would require two separate switch technologies to accomplish this.
Software KVM switches are more versatile than their hardware counterparts, are compatible with all combinations of PC connectivity technologies, and are not subject to the physical wear and tear that deteriorates hardware KVMs.
The software KVM switch innovation has reached a level of capability that makes it a viable alternative to KVM hardware. A true enterprise-grade solution, virtual KVM is stable and ready for mainstream adoption.
________________________________________________________________________________
EdgeRunner's Multiplicity software KVM switch product was used as the benchmark product for the study. Multiplicity is available as a free trial download from http://edgerunner.com/multiplicity.