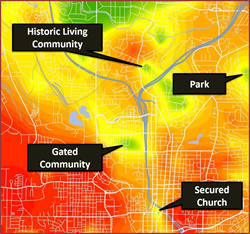 ...the scientists at Location, Inc. have developed technologies that can predict nearly 100 percent of crime incidences that occur in the real world, and at any address. A crystal ball for crime risk.
Worcester, MA (PRWEB) June 03, 2014
Location, Inc. is a SaaS company focused on building Big Data analytics about locations and specializing in predictive crime risk by address. In 2013, they began offering SecurityGauge®, a crime risk assessment and mapping tool which delivers ratings, forecasts, and other detailed crime risk data for any U.S. address, including Puerto Rico. The Company recently confirmed, through test studies with major insurance and retail corporations, that SecurityGauge is capable of explaining nearly 100% of actual loss records. Predictive statistics with this level of accuracy are disrupting traditional crime risk analyses and trending a major shift in the way corporations manage and alleviate risk.
"Our customers are faced with making high-risk business decisions with vital financial consequences and opportunities. Whether they are a pharmacy selecting a new store location or an insurer underwriting a new policy, they need accurate crime risk data that helps inform those decisions," says Location, Inc. CEO, Andrew Schiller, Ph.D.
"SecurityGauge meets these crucial needs by providing our customers with crime risk analytics never previously available. Our accuracy, combined with our spatial resolution, sets the new standard."
Previously, crime risk information was only available at the broader city, zip code, census tract, or other level based on artificial boundaries that do not affect crime. Thus, risk ratings were identical for every neighborhood, street and address within those areas.
With the advent of SecurityGauge, businesses can now pinpoint crime risk at any address. This new technology captures the subtle variances in crime risk as it shifts, not just by zip code or by block, but from one address to the next. SecurityGauge can resolve variations in crime risk as finite as gated communities, fenced campuses, parks, and in some cases, at opposite ends of large buildings.
What makes SecurityGauge unique? It uses a relational crime database hand-built from the ground up that gives Location, Inc. the only complete and accurate count of crimes that occur in every community in the U.S., not just the crimes reported by a single municipal agency.
This allows SecurityGauge to model crime risk at 10 meter resolution – a spatial accuracy never before achieved – combined with proven predictive accuracy. Test studies with major property casualty insurance and retail corporations consistently prove 93 to 98 percent accurate on millions of loss claims and hundreds of thousands of loss records.
Said another way, the scientists at Location, Inc. have developed technologies that can predict nearly 100 percent of crime incidences that occur in the real world, and at any address. A crystal ball for crime risk.
For these industries, the advantages of address-specific crime awareness are clear:

Insurance: Distinguish between high and low loss addresses to more effectively underwrite and price policies to improve profitability.
Retail, pharmacy, real estate and restaurants: Proactively assess crime risk for site selection. Identify sources of shrink (external v. internal), quantify violent crime risks, and know where to allocate security resources for best impact.
Security providers and independent security consultants: Visually communicate specific types of risks to clients; provide competitive quotes to new clients based upon risk information.
SecurityGauge is available by PDF reports, API, batch processing, and full installation. Additional information can be found at http://www.securitygauge.com.
About Location, Inc.
Based in Worcester, Mass., Location, Inc. is a geographic research SaaS company that has served more than 37 million people and businesses with its proprietary SaaS products and location analytics since its founding in 2000. The company is led by a team of pioneering Ph.Ds. focused on location-based tools to support high-cost, high-risk decisions. The company's products and services include SecurityGauge®, an instant crime risk assessment product for businesses which offers highly targeted security analysis and assessment for any U.S. or Puerto Rico address.