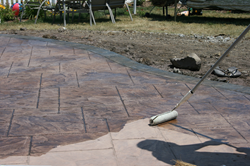 Morris, IL (PRWEB) May 19, 2014
The Experts at Walttools can help you in choosing the right Concrete Sealer for your concrete.
The summer entertaining season is fast approaching and soon, the question will arise, "What sealer do I use to freshen up my old concrete? And secondly, how do I do it right?"
Selection of a proper sealer for your project is an important step to keep your hard work looking new. There are many different sealers available so it can be quite confusing. Any big box store will have something on their shelf that indicates it is a concrete sealer. Don't jump so fast. The sealers available there are usually not the same professional grade sealers a contractor would use on your concrete. You have a lot invested in your decorative concrete and you want to do your best to maintain its life. There is not an indestructible sealer that lasts forever just yet so you have to do your research and choose the best thing for your situation.
You may wonder why you even have to reseal your concrete. Mother Nature is the reason. Sealers are a layer of protection. Protection from wear and tear, the weather and most of all, the sun and its color fading rays. As your sealer absorbs this abuse, it wears and fades, and eventually is gone. When your sealer is old or, worse yet, gone, your good looking surface is now taking this abuse unprotected. That becomes permanent damage. A good sealer will minimize these effects of nature actually reaching your concrete. A good sealer will have the following traits: Good resistance to UV (causes fade), salt, chemicals, moisture, freeze thaw cycles, and will allow vapors to escape from underneath. Acrylic sealers such as Walttools Stampsheen line are the most common line of defense here. They are usually solvent base products. Acrylics yield a good coverage per gallon at a fairly low cost. Most solvent based acrylics have good adhesion, let the concrete breath, decent UV resistance and are easily re-coatable. They are usually a medium to high gloss product and will improve color visibility and depth. They can be slippery when wet but a non-slip additive like Walttools Tru Grip can be added to the sealer as an anti-slip agent. To apply, you simply pressure clean your surface with a good degreasing solution and let thoroughly dry. Make sure all existing sealer is gone or, if solvent based, nothing loose. You can roll on the new sealer in two thin coats with a lint free 3/8" nap roller. Be sure to roll and back roll any thick areas or puddles (especially with deep texture) before the sealer gets tacky. Coats should be 2-8 hours apart depending on conditions. Water base acrylics differ in that they are not solvent based so they are not easily re-coatable. With no solvent to break down the previous layer, you are forced to strip the existing sealer off before re-coating.
Acrylic urethanes such as Walttools Acri-thane are another option great for outdoor use. They provide excellent gloss, better abrasion resistance, and more stability than standard acrylics. This product is a little more pricy than but will outlast most acrylics two to three fold. Acrylic urethanes are a two component system so you have to be a bit more careful to accurately measure/ mix.
One more choice gaining popularity for outdoor applications is a siliconized acrylic. They are so easy to use because they are a water based product. Unlike straight water based acrylics that cannot be resealed easily, Walttools Pro-Tect is re-coatable. They can be rolled down or sprayed on. These sealers produce a satin, much more natural finish. Properties of this water base siliconized acrylic are great adhesion, wear surface, water repellency, and UV resistance. Pro-Tect is also a very environmentally friendly option.
Our focus here has been on decorative concrete. But what about my plain ol' concrete? No worries there because any of these products will work on plain concrete as well. In most cases though, since a wet look and enhanced color is not an emphasis for plain concrete (and can look funny), the best options are usually those that have little or no shine. The Pro-Tect and Tru-Block products from Walttools are great for those reasons. They protect well while flying under the visual radar.
Lastly, we may as well throw in a comment about newly poured plain concrete. You should seal that from the get go to avoid premature degradation. It will promote a slow, steady and healthy cure of the slab which reduces deformation and shrinkage cracks. Walttools Stampsheen Cure Seal exceeds the standards set by the industry with regards to a cure and seal product. Walttools Pro-Tect is a water base option as well.
There it is in a nutshell. Now armed with a little more information you can tackle your faded concrete with a bit more confidence. For more info contact Walttools at 888.263.5895 or find them at http://www.walttools.com.