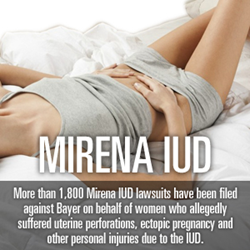 To learn more about filing a Mirena IUD lawsuit, contact the Oliver Law Group P.C. for your free case review by calling toll free 800-939-7878 today or visiting www.legalactionnow.com
Chicago IL (PRWEB) May 17, 2014
More than 1,800 Mirena IUD lawsuits have been filed against Bayer Healthcare Pharmaceuticals on behalf of women who allegedly suffered uterine perforations, ectopic pregnancy and other personal injuries due to the IUD, The Oliver Law Group reports. According to a Stockholder Newsletter issued by the Company on April 24, 2014, some 1,810 such claims are now pending in U.S. courts, and more filings are expected. All of the Mirena lawsuits seek compensatory and punitive damages for the Mirena complications allegedly sustained by plaintiffs.
(stockholders-newsletter-q1-2014.bayer.com/en/explanatory-notes.aspx#legalrisks, Bayer Healthcare Pharmaceuticals, April 24, 2014)
(In re: Mirena IUD Products Liability Litigation, MDL No. 2434)
(In Re: Mirena Litigation; Case No. 297)
Two Mirena Consolidated Litigations
Court documents indicate that the majority of Mirena lawsuits have been filed in one of two consolidated litigations, including a federal proceeding underway in U.S. District Court, Southern District of New York. (In re: Mirena IUD Products Liability Litigation, MDL No. 2434) A second Mirena litigation has been established in New Jersey Superior Court in Bergen County. (In Re: Mirena Litigation; Case No. 297) The first trials in those proceedings are not expected to begin until the latter half of 2015.
According to court records, plaintiffs in these Mirena lawsuit claims allege that their Mirena complications were the result of spontaneous IUD migration, which occurs when the contraceptive device moves from its proper position in the uterus long after implantation. Among other things, they claim that Bayer's warnings regarding device migration are inadequate, and only apply to migration that may occur when the Mirena IUD is initially inserted.
Mirena IUD Lawsuits Allege That Spontaneous Migration Can Have Severe Side Effects
According to the Mirena lawsuits, the IUD was introduced to the U.S. market in 2000, and touted as the perfect method of birth control for "busy moms." The small, t-shaped, flexible plastic device is a long-acting method of birth control that is implanted into a woman's uterus, where it releases levonorgestrel, a synthetic hormone, for up to five years. The lawsuits allege that spontaneous migration of the Mirena IUD can result in a number of serious personal injuries, including:

Uterine perforations
Ectopic pregnancy
Miscarriage
Embedment of uterine wall
Cervical perforations
Infertility
Abscesses
Perforation And Damage To Other Organs If The Mirena IUD Punctures The Uterine Wall.
In some cases, alleged victims of these Mirena complications have had to undergo multiple surgical procedures to locate and remove the IUD, and repair associated damage. The lawsuits further allege that the injuries caused by Mirena have the potential to permanently damage a woman's health and well-being.
Finally, plaintiffs in Mirena lawsuits accuse Bayer of overstating the benefits of the IUD and downplaying its risks. Among other things, they point to a 2009 warning letter the company received from the U.S. Food & Drug Administration (FDA) that reached similar conclusions about one of Bayer's Mirena promotional campaigns.
(fda.gov/downloads/Drugs/GuidanceComplianceRegulatoryInformation/EnforcementActivitiesbyFDA/WarningLettersandNoticeofViolationLetterstoPharmaceuticalCompanies/UCM197229.pdf, FDA, December 2009)
If You've Been Injured Learn More About Filing A Mirena IUD Lawsuit
The Oliver Law Group is offering free Mirena IUD lawsuit reviews to women who may have been harmed by this birth control device. To learn more about filing a Mirena lawsuit, please contact our office by calling 800-939-7878 today or visit http://www.legalactionnow.com.
About The Oliver Law Group P.C.
Oliver Law Group P.C. is a different kind of law firm. One that focuses on the needs of the injured first. A compassionate law firm dedicated to fighting for the rights of victims and their families across America, and doing everything necessary to ensure those rights.
The experience of a large firm. The 1-on-1 dedication of a small firm. A reputation built on trust.
Experience. Dedication. Trust. Oliver Law Group P.C.
If you would like to learn more about filing a Mirena IUD lawsuit, turn to the law firm with the Experience, Dedication, and Trust you deserve. Contact the Oliver Law Group P.C. for your free case review by calling toll free 800-939-7878 today or visit http://www.legalactionnow.com.
The Oliver Law Group P.C.
950 W University Dr.
Suite 200,
Rochester, MI 48307
http://www.legalactionnow.com
Toll-Free: 1-800-939-7878
Tel: 248-327-6556
Fax: 248-436-3385
Email: info(at)oliverlg(dot)com