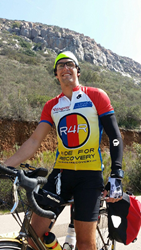 I wanted to convey the effectiveness of Collegiate Recovery Communities and destigmatize addiction recovery
Statesboro, Georgia (PRWEB) May 17, 2014
Having battled the disease of addiction himself, Steve with http://www.ride4recovery.org wanted to not only raise awareness about recovery but also encourage others still struggling with the disease to seek help.
A recent graduate of Georgia Southern University in Statesboro, Georgia, Steve has spoken at approximately 27 cities across the U.S. to share his life story and to spread the message of hope. His goal on this 8 week passage was to bring a positive light to the stigma usually associated with addiction. Steve leaves from Forsyth Park, Savannah, Georgia, May 17, and will be completing his journey on Sullivan's Island, South Carolina, dipping his tire into the Atlantic Ocean amongst a crowd of supporters and family members on Sunday. Cyclists from the Charleston area will be joining him on the last leg of his journey.
The "Ride 4 Recovery" is proudly sponsored by Willingway and Willingway Foundation. All proceeds from the ride will go to support the Center for Addiction Recovery at Georgia Southern University.
About Willingway:
For over 40 years, Willingway's focus has been saving the lives of people with alcohol and drug problems. A nationally-recognized alcohol and drug addiction treatment program, featuring private rooms and excellent care, Willingway promotes a lifelong continuing recovery program so that patients may enjoy a life of sobriety and success. http://www.willingway.com