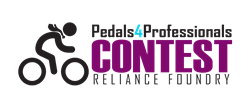 My bike is seriously falling apart, and I just haven't had the money to find a replacement, so this really is kind of a dream come true.
Vancouver, BC (PRWEB) May 19, 2014
Reliance Foundry Co. Ltd., North America's premier supplier of bollards, bike racks, and custom castings, today, named Kevin Neidorf the winner of the first annual Pedals for Professionals Contest. The announcement was made to coincide with the end of National Bike to Work Week in the United States. Neidorf, a resident of Columbia, South Carolina, has ridden his bicycle to work for several years now and is a big proponent of cycling as a sustainable form of transportation. He won first place in the contest that asked business professionals to submit a presentation on how biking to work had changed their lives. Neidorf submitted a video that spoke perfectly to the "ups and downs" of being a cycling commuter and was awarded the top prize of $5000 in cycling gear of his choice. He plans to apply his winnings towards the purchase of new bicycle and will use the remaining portion to encourage biking to work at his office through a bike to work program.
"I can't really articulate how excited that I am about winning this contest," said Neidorf. "My bike is seriously falling apart, and I just haven't had the money to find a replacement, so this really is kind of a dream come true."
Launched on April 15, 2014, the Pedals for Professionals Contest asked contestants to submit a presentation on how biking to work has changed their life or how it could improve the lives of their coworkers or employees for a chance to win $5,000 in the cycling gear of their choice. Contestants were free to submit their story however they felt they could most effectively do so. There were no maximum or minimum word limits and the presentation did not have to be submitted in standard written form; infographics, videos, imagery were also accepted. Contestants were also asked to specify the cycling equipment (up to a maximum of $5,000 MAX VALUE) that they would select if they were to be chosen winner. Submissions were judged based on how effectively they articulated the experience of a cycling commuter, and how well their piece would work to inspire others who were considering taking up the bike to work challenge. The response was positive and cyclist from all across North America submitted presentations that told their bike to work stories in a wide variety of forms. Kevin Neidorf was selected as the winner for his inspirational cycling video that details the struggles he faces on a daily basis and how he keeps motivated. For his prize, Kevin selected a new bicycle to make getting up easier and his commute safer. He promised to use the remaining a portion of his winnings to help encourage cycling at his company.
"As a nation-wide supplier of commercial bike racks, we've seen the positive impact cycling to work can have on businesses," said Brad Done, Vice President of Sales and Marketing at Reliance Foundry. "We're happy to have introduced a new initiative to help encourage cycling to work and we're looking forward to holding the Pedals for Processionals contest for many years to come."
The Pedals for Professional Contest is an annual initiative to foster support for cycling as a form of transportation. The contest will take place every spring and will culminate with the announcement of a winner on Bike to Work Day. The format and stipulations of the contest will change from year to year but the objective will always stay the same – to encourage cycling as a viable form of transportation. If you've taken up the bike to work challenge, stay tuned for more opportunities presented through the Pedals for Professionals Contest.