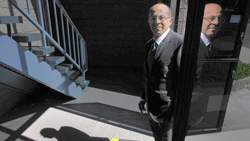 Haronian Insurance is recognized by Los Angeles Times, NBC News, and Covered California's blog.
Los Angeles, California (PRWEB) May 18, 2014
Haronian Insurance may not be a household name, but for championing Obamacare it's recognized by Los Angeles Times, NBC News, and Covered California's blog.
That's a lot of accolades for a small business that just moved to Canoga Park.
Last fall, owner Edmond Haronian became one of 12,000 Covered California Certified Agents, meaning he could enroll anyone in subsidized Covered California plans for free. He also offered free enrollment under private insurance plans for those interested.
Despite being an extension of Covered California, however, agents quickly realized they were getting the cold shoulder.
To agents' surprise, they were ignored in Covered California advertisement. Customers didn't realize they could enroll under Haronian just like Covered California and avoid having to wait on hold or navigate the glitchy website, which were the predominant means to sign up according to Covered California marketing.
In October, Los Angeles Channel 4 News visited Haronian Insurance to ask how agents overcame Obamacare's obstacles. The answer was what caught their attention in the first place: Haronian's 25-foot "Got Obamacare?" banner on his building.
6 months later, Haronian and like-minded insurance agents enrolled 40% of Covered California applicants compared to Covered California's call center, which enrolled 9%.
Director of Covered California Peter Lee congratulated Haronian in his blog after enrollment ended.
Haronian and his staff completed over 600 Covered California applications, including families and small business owners, which amounted to nearly 1000 people with health insurance. Los Angeles Times recognized Edmond Haronian as top agent in California soon after, dedicating a Sunday front page article to him.
In Los Angeles Times' article, Lee apologized if there was any misunderstanding by Covered California's treatment to agents, claiming he recognized agents from the beginning, but that registering not advertising them was his priority.
Open enrollment season is over, but there are still qualifying life events that allow people to get insurance: giving birth, turning 26, moving, or losing employer coverage to name a few.
Still don't "Got Obamacare?" Open enrollment starts again November 15, 2014.