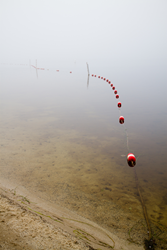 Studying with Lori Ryan has been invaluable to my development as a photographer. - David Elliot
Scranton, PA. (PRWEB) May 18, 2014
First Friday, June 6, 6-9 p.m., the ArtWorks Gallery and Studio will hold an opening reception for Lori Ryan's most recent body of work "In Nature, Design."
Photographing what surrounds her, Lori simplifies form in her compositions while depicting the complexity of living earth. Her work is influenced by the Edo period of Japanese art depicting "ukioye," the floating world. The images focus on the play between positive and negative space, water in its various forms and on occasion, the merging of man and nature.
The exhibition will be on display June 6- July 24, 2014. An artist talk will be held Friday, July 11, at 5 p.m.. For further information, please contact the gallery. ArtWorks Gallery and Studio, 503 Lackawanna Ave., Scranton, PA 18503; (570) 207-1815
About Lori Ryan
Lori Ryan, a Scranton native, finds her inspiration in what surrounds her. She currently resides in the Pocono Mountains and is an Adjunct Instructor in the Fine Arts Division of Keystone College. Her photographs have appeared in national magazines such as "Field and Stream" and "Woman's World, "and her fine art work has been exhibited in New York, NY, Philadelphia, PA, Cambridge, MA, Trenton, NJ, Scranton and Harrisburg, PA. Lori serves as a board member for the AFA Gallery, Scranton, PA, is secretary of the WANES PTA and co-leader of Girl Scout Troop 761.
Lori's New Studio
Lori will be holding a grand opening of her new photography studio on the edge of Lake Wallenpaupack in late June. Her love of portraiture has led her to pursue this endeavor. Lori will also offer photo workshops for beginner, intermediate, and advanced photo enthusiasts while taking advantage of the beautiful surroundings of the Pocono region.