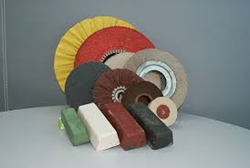 Zhengzhou, China (PRWEB) May 19, 2014
With the development of polishing processing techniques, polishing materials are gaining popularity in many fields. Usually, the surface of a polished workpiece looks more smooth. What's more, the quality of the workpiece that has been polished will also be improved.
Since the application of polishing is so popular around us, then how to choose proper polishing materials for certain applications? Perhaps iAbrasive can give you several tips.
Firstly, users are suggested to have a full knowledge of different polishing materials involving the specifications and attributes. There are several kinds of polishing materials, including ceramic sand, grinding stone, polishing paste, polishing fluid, luster agent, cutting fluid, etc, each of which will be used for different applications.
For example, ceramic sand is suitable for polishing hard workpieces like iron and steel and resin grinding stone is the perfect choice for removing the rust on zinc alloys.
Secondly, choosing suitable polishing machine is also important. When choosing polishing machines, iAbrasive suggests that one should keep in mind the principles of "easy to operate", "inexpensive costs", and "achieving excellent polishing effects".
For any question about polishing, users are suggested to view the official website of iAbrasive: http://www.iabrasive.com/.
Introduction to iAbrasive.com
Different from other comprehensive trading platforms, iAbrasive specializes in abrasives industry only and advocates integrated foreign trade marketing strategy. The website always keeps the industry news updated, and users are welcome to link http://www.iabrasive.com/articles to get more details. Want to know more excellent abrasives manufacturers? Join iAbrasive now!