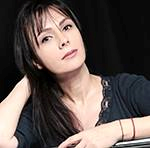 I want to put the finger on the wound. I do not want to reveal the beautiful appearance, but the ugly face of reality.
(PRWEB UK) 22 May 2014
In January 2014 social artist Dana Pandici took third prize in the "La tua arte nel sociale" (Your art in the social field") competition in Rome. The winning photographs were from her series Being Alive is a Privilege: Human Dignity Against Cynicism" and were titled "Evolution: The Madonna of the Future" and "Human Trafficking." In a recent interview with Barbara Imgrund, Pandici discussed these photographs as well as her life as an artist and the inspiration behind her artwork.
According to Imgrund, Pandici's photographs are "like a kick in the teeth," and when asked if her art should hurt, Pandici responded "This is what I expect from my art. Seriously speaking: Yes, I want to put the finger on the wound. I do not want to reveal the beautiful appearance, but the ugly face of reality," and hopes that her pictures "initiate such reflections and such talks."
At the end of April, Pandici entered a wire sculpture, titled "Suffering and Ache: Irreversible War Consequences" to the 2014 St. Leopold Peace Prize in Klosterneuberg, Austria. The competition, which exhibits art that shows a particular commitment to humanitarian and social concerns, takes place at the Klosterneuberg Monastery and the theme will be "Am I My Brother's Keeper?"
With this new piece Pandici hopes to call attention to those who suffer most from the waging of war. "My art strikes one on the spot," Pandici continues. "It is clear, explicit, pure, with no twirls, no bells or whistles and could—should—hurt. My art should 'do' something for its observer. It should touch him; it should trigger something in him."
Finalist will be announced in August, and after the awards ceremony a selection of the submitted pieces will be on display at the monastery from September 26 to November 30, 2014.
Read the full interview with Dana Pandici here.
About Dana Pandici
Dana Pandici, was born in Romania in 1967, and currently lives as a freelance artist in the Heidelberg Region of Germany. The Romanian-born artist does not tie herself down to one genre or technique, she shoots photographs, paints, sculptures and is a fashion designer. She can be found on the web here.
About Barbara Imgrund
Barbara Imgrund has a master's degree in German literature and is a freelance editor, translator, author and writing coach. Apart from good texts and art, her love is dedicated to animals and nature – two inclinations she combines in her publications and her blog die wüsten:monologe, where she writes about her volunteering experiences in African conservancy on a regular basis.