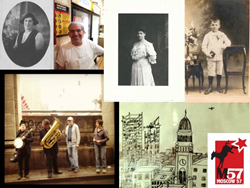 New York, NY (PRWEB) May 31, 2014
Moscow 57 prides itself on its hybrid artists and there's no better example than singer/songwriter/artist Laura Foulke and her new art installation "Greetings From the Lower East Side."
Foulke met Moscow 57 owners Ellen Kaye and Seth Goldman when they were all theater students at Sarah Lawrence College. Ms. Foulke, who moved to the Lower East Side in 1984, sings and plays her ukulele regularly at Moscow 57, performing her original songs with titles like "Waikiki Cowboy, "Looking for a Man," "The Twelve Bar Booze," and "Cocktails," as well as standards with the M57 Band.
This is Laura's fourth installation for Moscow 57 since the restaurant opened in February 2014. Her latest installation is a decorative and impressionistic celebration of the past and present of New York's Lower East Side, East Village, and Chinatown, in recognition of Lower East Side History Month. For the purposes of the exhibit, the Lower East Side has been loosely defined to extend from the East River to Broadway and from 14th Street to Canal Street—its traditional boundaries, rather than those adopted in the 1960s and later.
From a 1776 map of lower Manhattan showing the farm of Jacob Delancey, which gave Delancey Street its name, to a recent photo of beloved neighborhood business owner Salvatore Bartolomeo of Rosario's Pizza, the installation presents a variety of evocative images in a colorful reference to the laundry-hung streets that characterized the neighborhood as recently as the 1980s.
Moscow 57 partners Ellen Kaye, Seth Goldman and Ethan Fein are all descended from Lower East Side residents; Ellen Kaye, whose parents owned the Russian Tea Room for many years, has contributed a number of historical images of her father's family, including several of her uncle, the well-known operatic tenor Jan Peerce, who was born Jacob Pincus Perelmuth on Orchard Street. Executive Chef and partner Seth Goldman also contributed a number of photos of family members emigrated from Russia to the Lower East Side, while Music Director and partner Ethan Fein is represented by a photograph taken on the Williamsburg Bridge in 2013, during the filming of a video for the company.
The exhibit also features images from the heyday of the Yiddish theatre on the Lower East Side, snapshots of memorabilia from celebrated local restaurants such as Sammy's Roumanian and Katz's, and a collection of virtual ephemera from the 60s, 70s, 80s and 90s evoking the ever-changing kaleidoscope of urban life.
Sculptor Adam Distenfeld grew up at the Village View on First Avenue; his childhood drawing of the view from his parents' apartment charmingly conflates the view east over the dome of the Church of the Most Holy Redeemer on Fourth Street with the view west, showing the construction of the World Trade Center's twin towers, which were built in the years 1968-1971.
Tony Curtis, Walter Matthau, Keenan Ivory Wayans, Jerry Stiller and Estelle Getty all attended Seward Park High School—as did Julius Rosenberg, executed for espionage along with his wife in 1954. Zero Mostel, another alum of Seward Park High School, is represented by a recently restored vintage photograph from The Russian Tea Room, recently rededicated in the restaurant by Mostel's son, Josh.
Irving Berlin, George and Ira Gershwin, Edward G. Robinson, James Cagney and many others also got their start on the Lower East Side. Peter Riegert worked at the University Settlement as a camp counselor and leader of their after-school programs for several years in the late sixties and early seventies, long before he starred as the scion of the "Posner's Pickles" family in Crossing Delancey with Yiddish theatre star Reizl Bozyk.
The exhibit concludes with photographs of a number of today's Lower East Siders, including artist/photographer Clayton Patterson (who recently announced that he will be leaving the LES for a small town in Austria), the visual artists Paul Clay and Chang-Jin Lee, the bandleader Mike Mok, the bassist Scott Kitchen, and others.
Foulke's other installations were for Women's History Month, Maslinitsa (Butter Week) and "Eastover," a celebration of Easter and Passover. Ms. Foulke creates books documenting each exhibit and when asked, which happens a lot, sits with guests and talks about her work.
Ms. Foulke has a degree in theater from Sarah Lawrence College and has also studied art, music and design at a variety of other institutions including Harvard University, The New School, The Fashion Institute of Technology, the Craft Students' League, Cooper Union, the Art Students' League, and in Italy. She has lived on the Lower East Side for many years.
Moscow 57 is New York City's new Russian Central Asian restaurant with live music, on Delancey Street at the ramp of the Williamsburg Bridge on the Lower East Side.
Moscow 57, the hospitality and entertainment company, was launched several years ago by partners Ellen Kaye, Seth Goldman and Ethan Fein. For the past two years, the company has been hosting its M57 Urban Salons, evenings of music, food and digital visual art displays, in Harlem; Washington Heights; Chelsea; the Upper East Side; the East Village; Governors Island; New Milford, Connecticut; and New Orleans. Moscow 57 has made New Orleans a home away from home, with regular forays into that city's world-renowned culture of Southern hospitality, regional cuisine, and world-class entertainment. After performing at and co-producing events with New York's Corcho Wine Room, as well as celebrating Latin American culture in New Orleans, this cosmopolitan attitude is being brought to Moscow 57's permanent home on New York City's Lower East Side every night.
Moscow 57 Entertaining, created in partnership with Ethan Fein, is developing projects for film, television and theater. Its music company produces podcasts, live performances, recordings and videos. Moscow 57's first CD releases have already garnered national radio airplay, and the company's videos can be seen on the Moscow57Entertaining YouTube channel. The company's M57 podcast will be streaming live on Sunday nights.
For more information, contact Ellen Kaye at Moscow 57 646-584-2387, 212-260-5775 or ellenkaye(at)moscow57(dot)com.