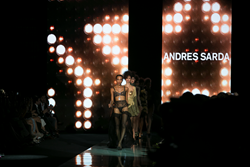 We've modeled our collection behind the idea of Carpe Diem, as we'd like to encourage people to seize the day and enjoy life
Miami Beach, Florida (PRWEB) May 17, 2014
Miami Fashion Week 2014 continued to unveil luxury resort collections on Friday with designers from around the world sending cutting edge looks down the catwalk. The night closed in style with a sexy and cutting edge collection by Andrés Sardá's lingerie.
The evening commenced as fashion enthusiasts and internationally renowned celebrities witnessed a special Lola Kids show, where talented children of all ages graced the runway with their best pose. The winners of the Real Housewife of Atlanta Cynthia Bailey's Miami Fashion Week's Faces of Fashion Model Search were also in attendance. In April, five models were selected among many to walk the runway during the Jones African American Showcase featured last night.
The models selected also had the opportunity to land a contract with the Bailey Agency. The showcase featured designer brands S. Saints Swimwear, Renee Fredique, The Wilbourn Sisters and Allusions by A. Likay.
Friday night's runway lineup closed with the unveiling of Andrés Sardá 2015 Collection, presented by TOUS. Now under the creative direction of his daughter, Nuria Sarda, ANDRES SARDA and SARDA brands include sexy and sophisticated lingerie and swimwear.
"We've modeled our collection behind the idea of Carpe Diem, as we'd like to encourage people to seize the day and enjoy life," Nuria Sarda, Creative Director for Sarda. "We are thrilled to be in Miami Fashion Week 2014. Miami is a fantastic city, and we are looking forward for this opportunity to be first of many more to come."
Last night's runway designers also featured Esudo, Ana Maria Guiulfo and Claudia Bertolero.
Miami Fashion Week 2014 Resort Collections continues on Saturday, May 17th with Eveningwear Showcase, Argentina Showcase, Italy Showcase, Pret-A-Porter Showcase, individual show by Sherri Hill, and closed by special guest Agatha Ruiz de la Prada.
For more information and tickets please visit: http://www.miamifashionweek.com.
For live streaming of Miami Fashion Week, visit http://www.miamifashionweek.com/video/livestreaming/
About Miami Fashion Week:
Miami Fashion Week brings the world's trendiest and emerging designers to the forefront of the American market. This year will mark the introduction of the first international platform for cruise/resort and pre-spring designer collections. Known across the globe as the largest International and Latin American fashion event, Miami Fashion Week celebrates fashion, beauty and lifestyle, and features a unique crossover of international cultures from designers, entertainers and celebrities from around the world. Miami Fashion Week is organized with the support of the Miami-Dade County Department of Cultural Affairs and the Cultural Affairs Council, the Miami-Dade County Mayor and Board of County Commissioners and the Miami Beach Visitor and Convention Authority.
© 2014 MFW Events, Inc. All rights reserved. | Miami Fashion Week® and Miami Beach International Fashion Week are registered service marks of MFW Events, Inc.
###