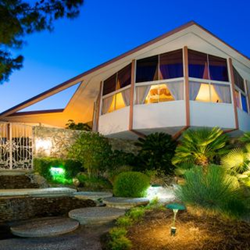 Elvis's home was often referred to in the 1960s as the 'House of Tomorrow'.
Pompano Beach, FL (PRWEB) May 19, 2014
While most people think of Graceland as Elvis Presley's home, the reality is that Elvis was connected to a number of properties. He bought Graceland at age 22 when the $40,000 Memphis house he'd purchased a few years earlier for his mom and dad became inundated with fans and press that disturbed the neighbors. At that time, he handed his parents $100,000 and told them to go find something more fitting. So Graceland actually was inhabited by his parents, step mother, grandmother and later his aunt - more a family home than that of a successful young man on his own. He lived at Graceland, on and off, but Elvis was spending so much time in California due to his movie career that he also lived in other homes closer to the studios.
Possibly the most interesting of all was a mid-century modern in Palm Springs that Elvis leased for a year as a respite from the rigors of his fast paced life in Hollywood and where he and Priscilla spent their honeymoon. Romantic and private, those in the know about this honeymoon retreat, enjoy telling about their daughter, Lisa Marie, being born exactly nine months later.
The Alexander Estate, originally home to developer Robert Alexander, was often referred to in the 1960s as "The House of Tomorrow." It was designed with three stories in four concentric circles with not a square room in the home. Though this was a cutting-edge concept in the United States, circular design has long been favored by some cultures who believe evil spirits hide in square corners. The 5,500-square-foot contemporary home has four bedrooms, five baths and Art Deco design and furnishings throughout with mountain views. The exterior has lush plantings affording complete privacy for the pool, stage, private garden, tennis court and fruit orchard.
The home has been featured on the Travel Channel, Fodor's Travel Guide, Time Magazine and Architectural Digest. A number of Elvis-related films have been shot there and the pool is said to be the most photographed in the Valley.
Elvis and Priscilla's Palm Springs "Home of the Future" honeymoon retreat, priced at $9.5 million. The listing agent are Josh and Matt Altman of Hilton & Hyland in Beverly Hills.
Real estate is never boring at TopTenRealEstateDeals.com.