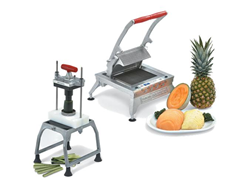 Sheboygan, WI (PRWEB) May 17, 2014
Fueled by the ongoing increase in demand for fresh, all-natural produce by consumers, the Vollrath Company, a foodservice industry leader in the finest smallwares and equipment, will be showcasing its FRESH IS BEST products at the 2014 National Restaurant Association (NRA) show in Chicago, May 17-20.
FRESH IS BEST is the company's focus on products and partnerships that help restaurants, schools and companies alike provide fresh, healthy foods to consumers. New and existing Vollrath Company products that fit within this FRESH IS BEST concept will be showcased at the company's new exhibit at Booth #4018 at the NRA Event at McCormick Place.
FRESH IS BEST also aligns with the Vollrath's ongoing partnership with United Fresh Organization in helping provide salad carts to schools as a part of its Lets Move Salad Bars to Schools Program, including the recently introduced Let's Move Salad Bars to Midwest Schools endeavor.
"As we look at our overall product offerings, not only do we want to showcase the quality and variety of our offerings, but it's critical to highlight how each falls within the FRESH IS BEST perspective to consumers," said Paul Egbert, vice president of marketing at Vollrath. "FRESH IS BEST is the mindset that we encourage our design teams to keep in mind in the development process. Our goal is to continue to help make the lives of those preparing fresh foods to people easier through great products."
FRESH IS BEST On Display
At the 2014 NRA Show, the Vollrath Company will showcase several products that connect within the FRESH IS BEST concept that support both food preparation and serving.
For food preparation, the company's Redco line of products will be on display. The Redco Fruit Slicer features 28 blades that operate in a single stroke operation, eliminating 75 percent of the time and costs associated with cutting fruits in a kitchen. The non-corrosive blades never require adjustments, and the machine's 5-inch cutting area is optimal for large fruit like pineapples, cantaloupe and honeydew melon.
The Redco InstaCut™ Cucumber Slicer, ideal for salad and sushi bars, provides three times faster cutting of cucumbers than by hand. It comes with one 14-section core, but is designed to also accommodate a 10-section core. Both slicers feature easy-to-use blade assemblies for quick and easy clean-up.
Vollrath will also feature a number of products in its fresh food-serving category. Products ranging from the Miramar Contemporary Pans and the Miramar Resin Templates, to the Vollrath Custom V-Class Series mobile serving equipment and 4-Well Hot/Cold Drop Ins that provide versatility in serving both cold salad bar options to warm buffet-style dinners.
"NRA is always a memorable show for our team to be able to connect with restaurant owners and workers that daily rely on our products to deliver fresh, quality food to their customers," added Egbert. "The Fresh is Best section in our booth allows us to demonstrate a variety of fresh food preparation tools and serving solutions. We will show operators how to make "Fresh" easy.
New from Vollrath at NRA
Vollrath will introduce and host onsite demonstrations for several new products at NRA 2014. First, the company will showcase the new Vollrath Mobile Acrylic Breath Guards, a convenient, durable and portable solution to help cover food serving areas. Available in three sizes with 1 cm thick acrylic panels to accommodate various applications, the Breath Guards fold flat for ease of transport, and include a traveling bag.
The company will also highlight its new Contoured Carving Station, the perfect addition to any restaurant or dining facility. This chrome-plated, heavy-duty steel framed station features a clear tempered glass customer breath guard and a knife-friendly dishwasher safe NSF Certified cutting board. The Vollrath 250 watt infrared replacement bulbs fuel the station's lighting.
Finally, Vollrath will feature its new Downdraft Vent Module at the NRA Show. Functional and aesthetically pleasing, this front-of-house cooking station with both one or two energy-efficient induction cooktops includes a downdraft venting system, integrated fire-suppression system and fire-containment food shield, all housed in either a Vollrath V-Class or Signature Server base. The module, which meets industry safety standards, is available with stainless, laminated, solid surface or quartz and is available in hundreds of base colors. The first-to-market Downdraft Vent Module was the recipient of the 2013 Kitchen Innovations (KI) award and will be on display in the Kitchen Innovations Pavilion located in the South Hall.
About Vollrath Company
The Vollrath Company, based in Sheboygan, Wis., has a reputation for the design, development and manufacture of the foodservice industry's finest smallwares and equipment. With a collection of exceptional people, industry leading products, and helpful consultative services, Vollrath is assembled for one purpose—to advance the art of hospitality. For more information about The Vollrath Company, its products, facilities in the US, Europe and Mexico, and the 19 foodservice industries it serves, visit http://www.vollrath.com or search "Vollrath" on Facebook or Twitter.