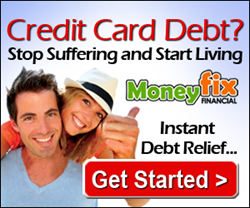 Newport Beach, CA (PRWEB) May 20, 2014
Moneyfix Financial LLC has launched one of the nation's top-notch debt resolution services, providing consumers throughout the country with real solutions to debt problems.
Throughout the country, consumers are suffering from serious financial problems, much of which is caused by mountains of credit card, medical bill, department store, private and federal student loan debt. Moneyfix was created with one goal in mind, to help Americans eliminate their debts with as little pain and damage to their credit as possible.
Many consumers these days are seeking debt consolidation loans to literally borrow their way into more debt. Initially, this may appear to be a good solution, however it only prolongs the debt problems their faced with. With a debt relief program the bleeding stops immediately and typically struggling consumers can be debt free in 2 to 4 years for pennies on the dollar.
"Our staff has decades of combined experience, and we have the kinds of relationships with creditors that will help free consumers from their debt," said one company executive. "We built this company to help people by offering numerous solutions to their problems, and by providing expert analysis of their financial situation."
Moneyfix offers the following debt resolution options:

Debt Consolidation Loans
Debt Settlement Services
Debt Management
Debt Validation
With a staff comprised of underwriters and debt counselors every consumer is offered a free analysis of their financial situation, as well as the potential options available to them. Each staff member at Moneyfix is trained and experienced in finding the best way to solve a consumer's debt.
Consumers can call Moneyfix at 800-678-Fixit (3494) and explain their financial history and current situation.
The company's staff provides advice to people with unsecured debts ranging from $5,000 to $100,000+, offering custom-fit debt resolution services that can eliminate debt quickly with the best possible outcome to their credit rating.
About Us
Moneyfix LLC is an AFCC approved debt resolution company specializing in settling credit card, department store, medical and unsecured personal loan debts. So focus on consumers problems and our solution. The company is 100% performance based and FTC compliant. "If we don't resolve your debts to your liking, you don't pay" It's that simple!
Visit us today: Click Here