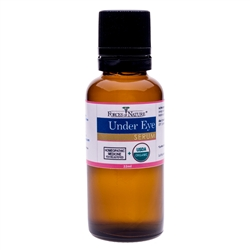 As the first certified organic and homeopathic remedy for dark circles Under Eye Serum is safe for your skin, while homeopathic medicine works to heal the causes of dark circles and under eye irritation. - Dr. Peter Klapper, CEO
(PRWEB) May 20, 2014
If dark circles under the eyes are darkening your mood, Forces of Nature's new breakthrough organic and homeopathic Under Eye Serum offers a great reason to lighten up. Safe, natural and effective, Under Eye Serum is made with antioxidants, homeopathic ingredients, natural moisturizers and healing agents to reduce puffiness, lighten dark circles and balance skin tone under the eyes. Unlike most treatments for dark circles under the eyes, Under Eye Serum guarantees results or offers money-back guarantee.
"Dark circles under the eyes can make you look and feel tired. To brighten up your eyes and your skin tone, Under Eye Serum safely and effectively treats dark circles under the eyes," said Dr. Peter Klapper, CEO, Forces of Nature. "Certified organic means that our products are safe for your skin and safe for the environment, a perfect combination when it comes to skin care."
Forces of Nature's Under Eye Serum offers:

Organic certification –no chemicals, pesticides or harsh toxins.
The ability to reduce any bluish color or discoloration below the eyes.
Seven individual healing agents that work together to balance out the skin tone naturally and effectively.
Astringent properties that reduce puffiness and swelling around the eyes.
A unique blend of homeopathic ingredients that increase circulation in the skin and reduce puffiness.
Guaranteed effectiveness or your money back.
With regular daily application of Under Eye Serum generally eliminates dark circles in just days or weeks.
Under Eye Serum was developed by the Forces of Nature in-house medical team, which includes Dr. Mair Mckinnon, a naturopathic doctor, and a Forces of Nature staff biologist who specializes in plant medicine, CEO Dr. Peter Klapper.
Forces of Nature stands behind all of its products and offers an unprecedented one-year money-back guarantee to demonstrate its high level of product confidence. Forces of Nature's mission is to provide innovative natural medicines which deliver results to bring healing to the world. The company is dedicated to well-being and supporting a chemical-free environment with an aim to stop focusing on symptom management and deliver real solutions, working to heal illness at its core.
For more information on Under Eye Serum as well as Forces of Nature's full line of natural remedies, please visit http://www.forcesofnatureusa.com.
About Forces of Nature
Forces of Nature is the only worldwide manufacturer of FDA registered, certified organic medicine. These natural treatments target difficult to treat conditions, including varicose veins, herpes, hemorrhoids and warts, using a 2-in-1 approach that merges the power of healing botanicals with proven homeopathic drugs. Forces of Nature's organic medicines are manufactured in a USDA Certified Organic and FDA registered facility. They are all backed by a one-year, money back guarantee. Forces of Nature's treatment therapies are available in pharmacies, Whole Foods and Sprouts markets nationwide, and online in the US and internationally at: http://www.forcesofnatureusa.com and http://www.forcesofnature.eu.