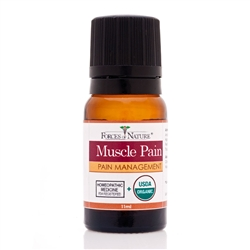 "Muscle Pain Management is a medicinal breakthrough. Pairing organic homeopathic drugs with organic essential oils we formulated the first pain reliever that is 100% Certified Organic & FDA Registered" - Dr. Peter Klapper, CEO
Sonoma, CA (PRWEB) May 27, 2014
Pain, any pain, can be debilitating in nature. Joint and muscle pain, in particular, can keep coming back until the source of the pain is addressed and healed. That is why it was so important for Forces of Nature's medical team of biologists and naturopaths to create a new pain treatment that would not only treat the pain itself, but also work to repair the cause of the pain. A medical breakthrough in pain relief, Forces of Nature's newest product, Muscle Pain Management, not only attacks muscle pain at its core, its powerful formula heals and repairs the damaged tissue that is the source of the pain, preventing it from returning.
With the use of Dual Modality, a patent pending formulation that unites pharmaceutical grade homeopathic remedies with essential oils, this treatment is lipophilic: able to penetrate immediately beyond the dermal layers and fatty tissue to provide systemic healing at the pain's source. The company's founder and CEO, Dr. Peter Klapper, stated, "This powerhouse treatment combines an unprecedented five certified organic, homeopathic remedies with four of the most potent, pharmaceutical grade essential oils. There is no superior, all-natural, cogent, and effective medicine for muscle pain on the market today."
Forces of Nature's new Muscle Pain Management product is:

Made with carefully selected essential oils of the highest quality from around the world to offer an unmatched therapeutic effect
A high intensity formula for quick and powerful relief from sore muscles and joint pain
'Lipophilic' meaning the formula passes through fatty tissue like skin, muscle and fat to saturate the source of your pain
Not only a treatment for pain, but heals and repairs damaged tissue to keep it from coming back
A proprietary formula using Forces of Nature's unique blend of five organic homeopathic drugs to offer complete pain relief
Non-habit forming with absolutely no-side effects
It seems that pain has become a consistent part of our lives, and the majority of available treatments only provide temporary relief. This creates the need to have a variety of over-the-counter and prescription drugs on hand for the moment when they become necessary. An American household, on average, will store a minimum of four differing topical medicines for joint and muscle pain relief in their home. Though helpful when used as prescribed, all legal medicines with legitimate uses can be abused. In particular, opiates have been proven to be highly addictive.
Wouldn't it be nice to have a safe and effective, 100% certified organic treatment that was also non-habit forming? Well, with the development of Muscle Pain Management, now we do. With the use of a homeopathic proprietary formula that includes Thuja Occidentalis, Arnica Montana, Aesculus Hippocastanum, Hypericum Perforatum, and Ruta Graveolens being partnered with the essential oils of Lavandula, German Chamomile, Niaouli, and Rosemary a far more cumulative and powerful effect is created. Having meticulously studied these native remedies and taken the time to arduously combine them, Forces of Nature has created a medicinal treatment that provides superior results allowing for real, systemic healing.
"We are so confident in its ability to work as described that we offer, as we do with all of our products, a full one-year money back guarantee on each and every product that we sell," says Dr. Klapper. "We want people to feel," he continued, "as confident as we are about our products. Knowing that we stand behind our claims with this kind of unmatched guarantee means that we aren't afraid to put our products to the test."
For more information on Muscle Pain Management, as well as Forces of Nature's full line of all-natural remedies, please visit: http://www.forcesofnatureusa.com.
About Forces of Nature
Forces of Nature is the only worldwide manufacturer of FDA registered, certified organic medicine. These natural treatments target difficult to treat conditions, including varicose veins, herpes, hemorrhoids and warts, using a 2-in-1 approach that merges the power of healing botanicals with proven homeopathic drugs. Forces of Nature's organic medicines are manufactured in a USDA Certified Organic and FDA registered facility. They are all backed by a one-year, money back guarantee. Forces of Nature's treatment therapies are available in pharmacies, Whole Foods and Sprouts markets nationwide, and online in the US and internationally at: http://www.forcesofnatureusa.com; http://www.forcesofnature.eu; http://www.forces-of-nature-asia.com.