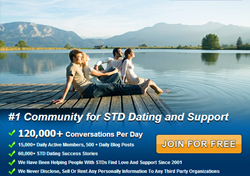 Los Angeles California (PRWEB) May 18, 2014
A recent survey carried out by PositiveSingles.com, a renowned online dating site for singles with STDs including HIV, Herpes and HPV, among others, confirms that more than 45% of the survey's 10,000 participants spent this year's Mother's Day with their mother. The report released by the platform also confirms that around 17% spent the day with their children, and another 18% were alone. The report also found that people who spent the day with their mom or children were the happiest.
Among the results, almost all members wished their moms a Happy Mother's Day, while a few extended the same sentiments to single dads as well. Sources confirmed that the members of PositiveSingles.com shared their Mother's Day stories on the platform's blogs and forums. Most members sent gifts to their mothers and confessed that it was one of the happiest days in their lives. "This just goes to show that our users are everyday people," says PositiveSingles.com Spokesperson, Jenelle Marie. "Our members fall within all age groups and come from a variety of backgrounds, and their experiences and values are not unlike those who do not have an STD – they are just like everyone else."
A few members went on to explain that they particularly enjoyed the food cooked by their children on the special day. Those who live in far-off places and were not able to visit their parents called them up and gave their best wishes. Members have also shared some interesting and touching stories about their mothers or children on the platform. Experts in the field relayed that the details revealed by the report show the importance and value of a mother-child relationship. The memories of the time they spent together stay for a lifetime, and that makes Mother Day special and important for everyone.
About PositiveSingles.com
As the largest and most trusted online dating site for people living with Herpes, HPV, HIV / AIDS, Hepatitis, Chlamydia, Gonorrhea, Syphilis and other STDs, PositiveSingles.com is completely anonymous and cares about members' privacy more than other sites. You are not required to submit any information that you are not comfortable with on this site. Whatever you are looking for Herpes dating, HPV dating, HIV AIDS dating, or any other STD dating, PositiveSingles.com is the best place.