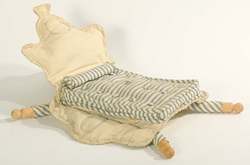 Sculptor Poller takes the bed tonew dimensions.
NY Hong Kong (PRWEB) May 19, 2014
New York sculptor Leah Poller, the US's answer to Tracey Emin, used the Kingsize bed in the Conrad Hotel in Hong Kong to exhibit a selection from the "101 Bed Collection", a unique series of sculptures using the bed as central motif. Art Basel lured collectors from around the world, while Poller literally put them to bed.
"We spend a third of our lives in bed, yet rarely does it appear as the central theme in art," states Poller. Born from a studio accident in which Poller was bedridden for an extended period of time, the series is unrivaled in its exploration of the bed as a theater of life's most significant moments, revisited in a 3 dimensional imagination that famed author Kurt Vonnegut said "literally blew my mind!"
Building on the theme of the bed, Poller's presentation at the Asia Contemporary Art Show presented on a bed at the Conrad Hotel in Hong Kong illustrates that what goes on in bed is a purely personal matter.
Poller's exploration in Asia began several years ago with exhibitions in Shanghai, Hong Kong and in 2014, Beijing. A privileged relationship with Jiangxi Metal craft has resulted in an unusual cultural cross-fertilization as Poller introduces her unique patinated palette and multicultural iconography to one of China's most important foundries that is working closely with her on the execution of her latest beds in the series. "No one believes that the Soft Bed – an homage to Claus Oldenberg – is in fact, bronze. This kind of collaboration is an artist's dream," states Poller.
For Poller Asia has become the next door neighbor, and as audiences respond to her cross fertilization over cultural barriers as only art can make happen; her commitment to developing a presence in China is matched by the wholehearted reception to her work.
In fact, visitors swell the city's ranks, coming from throughout Asia, the Pacific rim, Europe and the States as Hong Kong takes its place as one of the three top art markets, and dousing any concerns that Hong Kong lacks cultural content. For Poller, it all started with an accident that sent her to bed!
About Leah Poller
Leah Poller was trained as a sculptor at the Beaux Arts Academy of Paris, France where she resided thereafter for 20 years. Following an accident in her studio, she began the series entitled "The 101 Bed Collection", in which she examines our relationship with the bed in all its visual, literary and narrative forms. More than a third of our life is spent in bed, yet rarely has it been examined with such humor, pathos, whimsy, sarcasm, tragedy and passion as in her 3 dimensional bronze interpretations. Poller's work has been exhibited extensively in galleries, museums and institutions worldwide (US, France, Mexico, China). In addition, Poller is known for her reinvention of the classic portrait, including her recent tribute to internationally renowned Asian-American saxophonist Fred Ho. Poller lives and works in Harlem, New York.
http://www.leahpoller.com
e:leahpoller(at)aol(dot)com