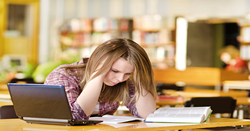 Technology addiction is becoming predominant and needs to be handled appropriately once and for all.
London, UK (PRWEB) May 20, 2014
Technology addiction is a growing problem, and if adults can't control their own technology use, how can they expect their children not to get allured into the same behavior patterns? NoBullying releases today the ultimate guide to Technology Addiction.
Psychology experts say the technology addiction problem is not with the devices, it's with the people who are using them, people who are predisposed to addictions of all kinds and people who have trouble with self-discipline. One psychologist says the constant reinforcement we get from messages and social media brings with it a "dopamine hit," which can become a constant craving if not curtailed.
Dr. Kimberly Young, director of the Center for Internet Addiction, discusses in this guide how much technology use is too much is not the same for everyone. People have differing tolerance levels than others. While some become addicted by engaging in specific drinking habits, others don't become addicted and it's the same with technology use.
"What we focus on instead is the effects and symptoms caused by a person's relationship to the Internet," Dr. Young said.
The guide lists steps needed to stop technology addiction before it takes over lives and ruins social interactions.
For an example, the first step is to admit the negative effects of overusing technology. Just like alcoholics have to first admit that they are alcoholics before they can begin the recovery process, the same holds true for people with technology addictions. Another essential step is setting boundaries for using technology gadgets such as the phone, tablet and computer.
A very fun and effective way to handle technology addiction is the following: When going out to lunch or dinner with family or friends, insist that everyone put their phone in a container or pile on the table. The first person who looks at his or her phone has to buy the meal.
The article also lists the concerns that use of technology could limit a child's physical development due to lack of movement during use. Movement enhances learning ability as well as the ability to focus and pay attention, so lack of movement would have a negative impact on literacy and academic development. One study claims that use of technology in children under 12 is harmful to their development and learning capabilities.
The lack of movement during technology use can cause a child to become obese, contributing to major health problems and putting them at higher risk of early stroke, heart disease and other serious health issues.
Macartan Mulligan, Co-Founder of NoBullying.com, said "Technology addiction is becoming predominant and needs to be handled appropriately once and for all."
He added that parents and teachers should make a point to educate the younger generations about the sad outcome of bullying online and offline. According to Mulligan, it is quite imperative to press for more firm laws condemning all acts of bullying and harassment.
NoBullying.com features many pages dedicated to parents, teens, teachers, health professionals as well as posts related to cyber safety and the latest news about law making concerning curbing Bullying worldwide as well as inspirational Bullying Poems and famous Bullying Quotes.
The website regularly updates its bullying statistics and cyber bullying statistics as it is essential to understand how widespread the bullying epidemic is. It also regularly runs cyber bullying surveys and questionnaires to get recent updated statistics on everything related to cyberbullying.
He also added that anyone suffering from bullying in any form or way can always find advice and help on the NoBullying website – but if anyone is suffering from severe bullying or cyber bullying, the best thing is to talk to someone locally – a parent, teacher or local organization that has been set up to help with specialized councilors to deal with this topic.