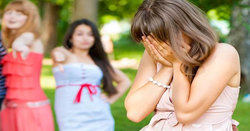 School Safety is an essential part of school life and it need to be tackled seriously and developed to protect our children and teens from the dangers of bullying and harassment.
London, UK (PRWEB) May 26, 2014
The number of cyber bullying reports continues to steadily climb. So, what about the students who access the schools' internet? What about Internet School Safety? NoBullying released today the ultimate definition to School Safety.
People are becoming more creative and are better able to use new technology to do a variety of things with laptops, cell phones and other wireless devices. School internet providers go to great pains to make sure any device used by their system is protected from hackers and that calls for stricter school safety policies.
The guide discusses the use of a School Internet Policy which is put in place to protect students from visiting websites that may be potentially harmful to themselves or their computers. Pornographic websites, webpages that discuss weapons or any other type of illegal activity are forbidden and access is denied through a series of firewalls and internet filters that prevent specific types of content from being downloaded by the computer.
The guide also lists what School internet policies often include.
Many students, however, have found a way to hack into their school's internet system, allowing them to visit whatever sites they choose without being detected. Schools that allow their students to access the internet have a strict policy as to what types of sites are considered taboo. Students who have figured out how to access the sites and are caught viewing them can be suspended or expelled from school depending on the nature of the content.
One of the strictest school safety measures when it comes to internet usage is the elimination of the "chat" feature. By blocking a student's ability to communicate with others outside of the school's internet system, they can prevent pedophiles and other individuals from having access to minor children. This also prevents students from sharing information between classes concerning tests, quizzes and other school materials.
Macartan Mulligan, Co-Founder of NoBullying.com, said "School Safety is an essential part of school life and it need to be tackled seriously and developed to protect our children and teens from the dangers of bullying and harassment."
He added that parents and teachers should make a point to educate the younger generations about the sad outcome of bullying online and offline. According to Mulligan, it is quite imperative to press for more firm laws condemning all acts of bullying and harassment.
NoBullying.com features many pages dedicated to parents, teens, teachers, health professionals as well as posts related to cyber safety and the latest news about law making concerning curbing Bullying worldwide as well as inspirational Bullying Poems and famous Bullying Quotes.
The website regularly updates its bullying statistics and cyber bullying statistics as it is essential to understand how widespread the bullying epidemic is. It also regularly runs cyber bullying surveys and questionnaires to get recent updated statistics on everything related to cyberbullying.
He also added that anyone suffering from bullying in any form or way can always find advice and help on the NoBullying website – but if anyone is suffering from severe bullying or cyber bullying, the best thing is to talk to someone locally – a parent, teacher or local organization that has been set up to help with specialized councilors to deal with this topic.