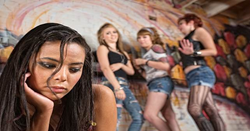 We need to educate the younger generations that the theory of sticks and stones no longer applies.
London, UK (PRWEB) May 22, 2014
Many parents use the line "Sticks and Stones" to ease their children's fears about being bullied. But the truth that everyone is coming realize is that words can sometimes hurt more than sticks and stones, they can easily break spirits and have a lasting effect on one's soul. NoBullying releases today the ultimate guide to Name Calling and how to protect children from the sad effects of name calling.
The guide mentions the sad reality that name calling, along with more forms of severe verbal abuse, can in fact, break one's spirit as well as incite further violence and abuse. This article will help readers to understand and to address the issues raised by name calling and bullying. Especially if it is repeated and is an ongoing occurrence, name calling should not be simply ignored – nor should a child be advised to do so in such situations.
The guide defines name calling as "the act of saying insulting things to or about someone;" or "the act of using offensive names to insult someone", as defining Name Calling is essential for understanding how to combat it properly.
The situation of learning to use nasty names for others can be more insidious and harmful to the social fabric when it represents the inheritance of a prejudice or hatred toward a particular group of people. This may be based on race, religion, sexual preference, class, ethnicity, or any other source of "Otherness" that human beings can dream up. A child who grows up hearing derogatory names regularly applied to one of the "Other" groups will most likely turn into an adult who continues to have and to verbally express those biases.
Macartan Mulligan, Co-Founder of NoBullying.com, said "We need to educate the younger generations that the theory of sticks and stones no longer applies. Name calling is a wave of hatred between children and young adults and it needs to stop."
He added that parents and teachers should make a point to educate the younger generations about the sad outcome of bullying online and offline. According to Mulligan, it is quite imperative to press for more firm laws condemning all acts of bullying and harassment.
NoBullying.com features many pages dedicated to parents, teens, teachers, health professionals as well as posts related to cyber safety and the latest news about law making concerning curbing Bullying worldwide as well as inspirational Bullying Poems and famous Bullying Quotes.
The website regularly updates its bullying statistics and cyber bullying statistics as it is essential to understand how widespread the bullying epidemic is. It also regularly runs cyber bullying surveys and questionnaires to get recent updated statistics on everything related to cyberbullying.
He also added that anyone suffering from bullying in any form or way can always find advice and help on the NoBullying website – but if anyone is suffering from severe bullying or cyber bullying, the best thing is to talk to someone locally – a parent, teacher or local organization that has been set up to help with specialized councilors to deal with this topic.