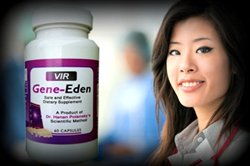 We recommend that people who want to boost their immune system against viruses, and are considering meditation, also take Gene-Eden-VIR and Novirin. - Mike Evans, polyDNA
Rochester, NY (PRWEB) May 25, 2014
polyDNA's latest May 2014 survey found that 16% of respondents wanted to know if meditation can boost the immune system against viruses. At least one study, published in the Proceedings of the National Academy of Sciences, says yes. "When exposed to inflammation test, participants …underwent training … (which included swimming in frigid water and lying bare-chested in the snow, as well as breathing and meditation exercises)" reported fewer viral symptoms than those who did not. (See khaleejtimes.com, published on May 8, 2014) (1). polyDNA recommends that individuals interested in boosting their immune system against latent viruses also take Gene-Eden-VIR and Novirin. The formula of these natural products was designed to boost the immune system against latent viruses.
The meditation and immune system study indicated that "The nervous system may exert influence on immune responses (1)." This is done through "behavioral training like breathing exercises (that) people can learn to modulate their immune system (1)." Researchers wrote that they were inspired by "the extraordinary feats of Dutch celebrity daredevil Wim Hof who has endured lengthy ice-water baths, hiked to the top of Mount Kilimanjaro in shorts and made his mark in Guinness World Records with his ability to withstand cold (1)."
WebMD also notes that meditation may boost the immune system. Studies show that "meditation not only lowers blood pressure but also can amp up your immune system - although the mechanism isn't clear - while improving your ability to concentrate. Those who meditate can choose among a wide range of practices, both religious and secular. What they have in common are a narrowing of focus that shuts out the external world and usually a stilling of the body." (See WebMD, Last reviewed February 25, 2009) (2).
One major review of the scientific literature noted meditation and related activities that "Mindfulness (meditation) is associated with increased well-being as well as reduced cognitive reactivity and behavioral avoidance. It seems to contribute to enhance immune functions, diminish inflammation, diminish the reactivity of the autonomic nervous system, increase telomerase activity, lead to higher levels of plasmatic melatonin and serotonin. It enhances the quality of life for patients suffering from chronic pain, fibromylagia and HIV infection. It facilitates adaptation to the diagnosis of cancer and diabetes. It seems to lead to symptomatic improvement in irritable bowel syndrome, chronic fatigue syndrome, hot flashes, insomnia, stress related hyperphagia. It diminishes craving in substance abuse." (See Sante Mentale au Quebec, from 2013) (3).
"We recommend that people who want to boost their immune system against the flu virus, and are considering meditation, also take Gene-Eden-VIR and Novirin. These two products were shown to reduce viral symptoms in more than one clinical study that followed FDA guidelines." - Mike Evans, polyDNA
Novirin shares the same formula as Gene-Eden-VIR. The difference between the two is that Novirin has higher quality, more expensive ingredients. The Novirin/Gene-Eden-VIR formula was tested in two post-marketing clinical studies published in September 2013 and March 2014, respectively, in the peer reviewed medical journal Pharmacy & Pharmacology (4).
Interested individuals can view the two published studies here, http://cbcd.net/Gene-Eden-VIR-Clinical-Study.php and http://cbcd.net/Gene-Eden-VIR-Decreases-Fatigue-Clinical-Study.php.
Up to 70% of those studied reported a decrease in symptoms associated with viral infections, and users of the Novirin/Gene-Eden-VIR formula experienced an increase in overall health (4).
Each ingredient of Novirin was chosen through a scientific approach. Scientists scanned thousands of scientific and medical papers published in various medical and scientific journals around the world to identify the highest quality, safest, most effective natural ingredients that target latent viruses.
A second clinical study showed that the Novirin/Gene-Eden-VIR formula decreased physical and mental fatigue. (See Pharmacology & Pharmacy, from March, 2014) (5).
To learn more about Novirin, visit http://www.novirin.com and about Gene-Eden-VIR, visit http://www.gene-eden-vir.com.
All orders of these products are completely confidential, and no information is shared or sold to any third party. Privacy is assured.
References:
(1) Can meditation empower us to regulate immune system? Published May 8, 2014.
http://www.khaleejtimes.com/kt-article-display-1.asp?section=health&xfile=/data/health/2014/May/health_May9.xml
(2) WebMD - Meditation Heals Body and Mind. Last reviewed February 25, 2009.
http://www.webmd.com/mental-health/features/meditation-heals-body-and-mind
(3) Review of the effects of mindfulness meditation on mental and physical health and its mechanisms of action. Published in 2013.
http://www.ncbi.nlm.nih.gov/pubmed/24719001
(4) Gene-Eden-VIR Is Antiviral: Results of a Post Marketing Clinical Study. Published on August 12, 2013.
cbcd.net/Gene-Eden-VIR-Clinical-Study.php
(5) Gene-Eden-VIR Decreased Physical and Mental Fatigue in a Post Marketing Clinical Study That Followed FDA Guidelines; Results Support Microcompetition Theory. Published in March 2014
cbcd.net/Gene-Eden-VIR-Decreases-Fatigue-Clinical-Study.php.
polyDNA is a biotechnology company that develops dietary supplements using the unique scientific method developed by Dr. Hanan Polansky, which is based on Computer Intuition.
In addition to his unique scientific method, Dr. Polansky published the highly acclaimed scientific discovery, called Microcompetition with Foreign DNA. The discovery explains how foreign DNA fragments, and specifically, DNA of latent viruses, cause most major diseases.
polyDNA developed Novirin, an antiviral natural remedy that helps the immune system kill latent viruses.