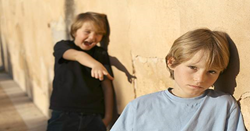 Learning what is bullying is the first step in preventing it for our children.
London, UK (PRWEB) May 27, 2014
Bullying behavior is behavior that is often deliberate and executed repeatedly over a period of time. Bullies rarely attack their victims once and then move on to someone else. When they identify a target, they go after that individual time and time again. Learn about what is bullying with this extensive guide released today.
This extensive guide on what is bullying lists the various definitions of bullying and cyber bullying as well as the types of bullying such as physical, mental, spousal, verbal, financial and of course, cyber. It also mentions workplace bullying as one of the most common types of bullying.
The guide also lists the various signs of being bullied exhibited by the victim such as unexplained injuries, lost or damaged items, feeling sick often, difficulty in sleeping and changes in eating habits. There is also mention of signs exhibited by the bully himself, such as frequent fights, physical or verbal, unexplained money or belongings, no sense of responsibility for actions, hanging out with other known bullies, aggressive behavior, blaming others for problems.
How to handle a bully and how to approach school prevention for bullying as well as prevention at home are all aspects that are mentioned in the article. It also reiterates that bullies need help too.
The guide also lists the triggers of bullying such as feeling as if the victim deserves the treatment, the popularity of the victim and the bully, cultural differences, social issues, such as poverty, jealousy or a lack of social skills, family issues, such as a cold home environment or lack of parental involvement, a desire for power as well as a personal history of being bullied. Many bullies do it to others because it's what they've learned.
Macartan Mulligan, Co-Founder of NoBullying.com, said "We need to educate the younger generations that the theory of sticks and stones no longer applies. Learning what is bullying is the first step in preventing it for our children. "
He added that parents and teachers should make a point to educate the younger generations about the sad outcome of bullying online and offline. According to Mulligan, it is quite imperative to press for more firm laws condemning all acts of bullying and harassment.
NoBullying.com features many pages dedicated to parents, teens, teachers, health professionals as well as posts related to cyber safety and the latest news about law making concerning curbing Bullying worldwide as well as inspirational Bullying Poems and famous Bullying Quotes.
The website regularly updates its bullying statistics and cyber bullying statistics as it is essential to understand how widespread the bullying epidemic is. It also regularly runs cyber bullying surveys and questionnaires to get recent updated statistics on everything related to cyberbullying.
He also added that anyone suffering from bullying in any form or way can always find advice and help on the NoBullying website – but if anyone is suffering from severe bullying or cyber bullying, the best thing is to talk to someone locally – a parent, teacher or local organization that has been set up to help with specialized councilors to deal with this topic.