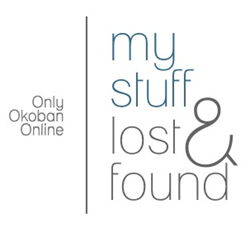 Now, with Okoban, any lost luggage item or other valuable can find its owner. Often, the lost valuable finds the owner before the owner realizes the item is lost.
Atlanta, Georgia (PRWEB) May 20, 2014
After a long day of travel, there is nothing worse than learning that checked luggage is lost. Although it is impossible to eliminate the possibility of lost luggage, the following seven tips from mystufflostandfound.com will decrease the odds of luggage getting lost and greatly increase the odds of lost luggage getting returned quickly.
1- Check in early
Baggage handlers may not feel the same sense of urgency as the bag owner for getting late bags on a flight. Having the check-in processes completed and baggage in the pipeline at least 45 minutes before the flight departure time is recommended.
2- Check the destination tags
Travelers should take responsibility to double-check that the correct destination tags get placed on their luggage. The airport codes used on the tags are also shown on the ticket. Old tags and stickers are to be removed before bags are checked to avoid confusion.
3- Enclosing an itinerary indicates luggage destination
Airlines officials will sometimes open a bag to try to identify the owner. There should be a clearly visible itinerary inside the bag indicating its final destination.
4- Make luggage easily identifiable
Luggage that stands out in the crowd are more likely to get where they need to be and less likely to be accidentally taken off the carousel by someone that owns a similar looking bag. Marking a bag can be as easy as adding a tassel, decal, unique strap or colorful tape.
5- Avoid short layovers
When travelers change planes, so does their luggage. Less time between flights means less time for baggage handlers to sort and reroute luggage. A delayed first leg will make that transfer even less likely. Layovers of less than hour should be avoided and longer with international flights. Changing airlines during a layover increases the problem so stick with one carrier.
6- Ship luggage instead of checking
Shipping luggage UPS, FedEx or U.S. Postal service is something to consider. Loss rates are much lower with these services and considering the fees airlines charge for checked bags (especially overweight or oversized), shipping may even save money. Ship at least five days ahead and make arrangements for storage at the bags final destination.
7- Add Okoban tracker tags to all luggage items
When luggage does get lost, Okoban tracker tags greatly increase the likelihood that they will be returned in a timely manner.
"Lost" luggage does not actually vanish; "lost" luggage is virtually always found by someone. Lost luggage usually occurs when the finders, usually airline personnel, have no easy way to identify and contact the owner quickly. Okoban® tracker tags from http://www.mystufflostandfound.com connect finders with owners quickly, securely and privately, anywhere in the world.
Finders simply enter the tracker tag's Unique Identification (UID) code and the recovery location on the Okoban website. The system then immediately notifies the owner, anywhere in the world, with a secure email and text message of the found valuable and its recovery location.
The worldwide Okoban notification service, linked to the SITA/IATA World Tracer system, operates in 2,200+ airports, on 400+ airlines and in thousands of "frequent finder" locations, institutional lost and found facilities such as TSA, rail, maritime, coach, car rental and hotel companies.
"Now, with Okoban, any lost luggage item, lost phone or other valuable can find its owner," says Gordon Burns, CEO of My Stuff Lost and Found. "Often, the lost valuable finds the owner before the owner realizes the item is lost," says Burns.
Mystufflostandfound.com is the online gateway to Okoban's tracking service for valuables and free global lost and found service for life.
Okoban is available online at http://www.mystufflostandfound.com.