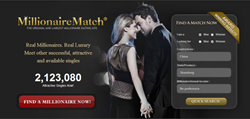 Los Angeles (PRWEB) May 27, 2014
Now a truly unique and bespoke travel experience is delivered with complete discretion and limitless hospitality. Speaking of that, Etihad Airways could be one of the best airways in the world. It has introduced the most exclusive way to travel. Whoever takes this plane gets a five-star hotel experience in the air. It is a plane with a private three-room suite, including a living room, a bathroom and a bedroom and a Savoy Academy-trained butler.
It is designed for up to two guests traveling together. It is created by leading interior designers and hospitality experts who understand the discernment and sophistication that most private travelers expect.
What do MillionaireMatch members think of this luxurious airline? Rich men and women who fly frequently recently shared their thoughts on it. According to their discussion, some approved and passionately liked this luxury service. One client commented, "I fly to the United Arab Emirates a lot. I want to try this pleasant service."
Others thought the service would indeed make a trip more comfortable, but it costs as much as 12500 pounds to board and thus, is not worth it.
Also, MillionaireMatch members listed some of the most luxury and comfortable airlines and voted to the top of their lists.
Singapore Airlines from New York to London, about $6,600, got the most supports with 36.13 % of votes.
Emirates Airlines from New York to Dubai, about $5,000, got 23.55% of votes.
Eos Airlines from New York to London, about $6,000, got 20.13% of votes.