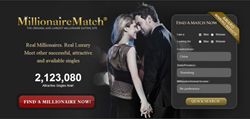 Los Angeles (PRWEB) May 22, 2014
Who are you wearing? That's a staple question women are asked as they walk the red carpet. What designer catches your eyes? Which designer has the lines, the curves and detail you most want to wear? It's been said that clothes make the woman. Who are some of the A-Listers in the celebrity world's favorite designers that make them look stunning in so many ways?
MillionaireMatch list a variety of celebrities and their favorite fashion designers. Members rate the most successful ones and here are top five:
1. The gorgeous Anne Hathaway paired with the amazing Italian Fashion Designer Valentino receive 26.7% of votes. "Valentino makes her look so elegant." One anonymous female member says. He is a master of femininity and haute couture.
2. The fabulous Gwyneth Paltrow and Stella McCartney, daughter of former Beatles Paul McCartney. Her clothes have sharp tailoring, give natural confidence and sexy femininity. That combination receive 22.3% of votes.
3. Sienna Miller is paired with designer Matthew Williamson who has graced New York Fashion Week, London Fashion Week and received the 2011 Red Carpet Designer from the British Fashion Awards where he also receives three nominations for Designer of the Year. That fashion couple receives 19.3% of votes.
4. Lady Gaga and Thierry Mugler. Lady Gaga is a perfect example of a Mugler Woman. Her designs say so much about who she is and what her life is all about. This combo receives 16.4% of votes. "Well, It makes her impressive." One of male member says.
5. Tilda Swinton and Haider Ackermann, the Columbian designer of ready to wear fashions. He designs for men and women. They receive 14.5% of votes.