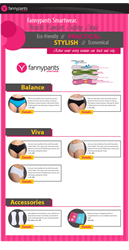 All of the SmartwearPanty styles look much more like high-end lingerie than a product for little bladder leaks.
Neenah, Wis. (PRWEB) May 20, 2014
The CareGiver Partnership is offering an innovative line of premium-quality panties for light incontinence — an all-in-one solution for women on the go who experience little bladder leaks when they jump, run, stretch, laugh, cough or sneeze.
The Smartwear line was designed as a solution for light bladder control, a concern for approximately 1 in 4 women. Available in several styles, including bikinis and briefs in cotton/spandex fabrics, the SmartwearPanty features a moisture-proof, stain-resistant gusset that holds an absorbent SmartPad. The panty can be worn with or without the pad — a machine-washable, reusable microfiber material that's 10 times more absorbent than disposable cotton pads.
"We're so thrilled to offer this new line of premium-quality panty to our customers," says Lynn Wilson, founder of the national online retailer of incontinence products and other home health care supplies. "All of the SmartwearPanty styles look much more like high-end lingerie than a product for little bladder leaks."
Fannypants Smartwear was created by Sophia Parker to be fashionable and functional. Parker says she wanted to make a difference in women's lives by offering fun, feminine designs combined with everyday protection. Fannypants, which has expanded its line to include yoga pants, recently earned a 2014 Top Innovator Award from Apparel magazine for demonstrating exceptionality in combining fashion and functionality with environmental accountability.
In addition to two SmartwearPanty styles and various size packages of SmartPads, The CareGiver Partnership also offers a discreet Travel Pouch with 2 compartments for wet or dry pads.
Visit The CareGiver Partnership for hundreds of incontinence solutions, free articles and resource links, and one-on-one customer service from knowledgeable product specialists.
The CareGiver Partnership is a national direct-to-consumer retailer of home healthcare products for incontinence, diabetes, nutrition support and more. In its eighth year of providing products and services that help caregivers and loved ones maintain personal dignity, the company also offers an online library of more than 1,500 family caregiver resources and personal service by experts in caregiving. Call 1-800-985-1353 or visit online at caregiverpartnership.com.