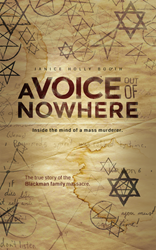 Chances are very good that at some point in your life, someone you care about will develop schizophrenia.
Charlotte, NC (PRWEB) May 21, 2014
There was no mental illness in the Blackman family so when 22-year-old Bruce began to behave bizarrely and became obsessed with parts of the Bible, his friends and family chalked it up to too much marijuana and too little sleep. But what was really happening was a malignant brain disorder called schizophrenia was quickly eroding Bruce's diminishing hold on reality. In her new book, "A Voice out of Nowhere," author Janice Holly Booth chronicles the true case of Bruce Blackman's slide into mental illness, and the tragic path that led him to commit mass murder.
Blackman killed six members of his family on a cold January morning in 1983, in a quiet community just outside of Vancouver, British Columbia. Across the nation, people wondered "Why? How could this happen to such a nice, normal family?" "A Voice out of Nowhere" answers both the why and the how, and provides insight into serious mental illness and how it can manifest in dangerous ways if left untreated or if treated improperly. The book also examines the impact of deinstitutionalization – the mass closing of mental hospitals across the United States and Canada – which has left millions of people with severe mental illness unprotected and unsupported. Often, these individuals end up homeless, incarcerated, victims of crime or of suicide.
"The Blackman tragedy is a reminder that the signs of mental illness should never be ignored," says Booth. "The Blackman family had numerous opportunities to have their son committed or to become more aggressive with his out-patient treatment, but they chose not to." Booth believes that if the family had been educated about the nature of schizophrenia, they would have taken a more pro-active approach, an approach Booth insists, which would probably have saved their lives.
"Chances are very good that at some point in your life, someone you care about will develop schizophrenia," says Booth, as the disease affects nearly 3 million people in the U.S. and Canada. "By educating yourself about this disorder, you become a more effective advocate for the person you are trying to help." There are virtually no more mental hospitals to house or help the severely mentally ill, Booth reminds us. "We have to all take responsibility for understanding and recognizing mental illness, and then advocating for a better mental health care system, which ultimately will benefit all."
ABOUT JANICE HOLLY BOOTH: Born in British Columbia, Janice Holly Booth is a lifelong equestrienne and avid solo traveler. A former non-profit CEO, she is now a full time writer and speaker. Her first book, "Only Pack What You Can Carry," was published by National Geographic and was a best-seller in three countries. Her latest book, "A Voice out of Nowhere: Inside the mind of a mass murderer," is an Amazon #1 Best-seller in the category of schizophrenia.