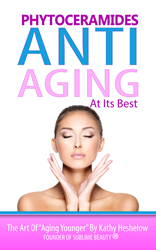 This is the last day to get a free copy of the new book, "Phytoceramides: Anti Aging At Its Best". The price goes back to $13.99 tomorrow.
St. Petersburg, FL (PRWEB) July 30, 2014
Phytceramides are a natural anti-aging tool for improving skin, and Kathy Heshelow explains how and why in her new book.
Today is the last day to nab a free download copy on Amazon: Phytoceramides: Anti Aging At Its Best. The book is also sold in hard copy.
"I am working on a larger skin care book, but felt that Phytoceramides were so new and very unknown in the U.S. that it made sense to bring out this focused book now," says Kathy Heshelow, founder of Sublime Beauty®. "It is an easy yet enlightening read for anyone concerned with healthy skin as they age."
Kathy is not a dermatologist, nor a scientist or clinician. She owns the skin care company, Sublime Beauty®, which focuses on "aging younger" with great products and practices (like Skin Brushing.) She is immersed in skincare issues, and surrounded by chemists, dermatologists, researchers and an abundance of common sense.
"I take Phytoceramides myself, and since I offer them through Sublime Beauty®, I wanted consumers and my clients to know what they were all about so they could decide for themselves," says Heshelow. "Knowledge is power!"
Several reviews are already posted on the book, (with a current rating at 4.6 of 5 stars), including:
"Very helpful for understanding anti-aging remedies. Especially appreciated the explanation of ceramides role in keeping skin healthy and youthful. Well researched and explained for the layman to understand." - Connie M.
"Like everyone I fear aging too. It's not only women's problem. I've been using some solutions but phytoceramides is a very new concept to me. I got this book to find out more about it. This book describes it very well and also talks about other ant-aging remedies. I will definitely try them out as it all makes great sense to me. I would also recommend this book to everyone, men too as we deserve to stay younger too." – Rock M.
"I am very impressed at the depth of information in this book. It almost reads like a medical journal on the subject, but the author, Kathy Heshelow, has gone to great lengths to ensure a very thorough read that is written in a simple language. Easy to understand, Kathy goes into detail on the history, origins, studies, and more into this wonder supplement, phytoceramides.
Overall, a heavily researched book that delivers excellent quality content in an easy to grasp manner. Very well done and very professional. For anyone interested in learning more about the benefits of phytoceramides, this is the book for you." – Dennis W.
Don't miss out on learning about this new subject - download your free copy today. The price goes back to $13.99 tomorrow.
ABOUT: Sublime Beauty® is a quality skincare company that focuses on products to "Age Younger". Products help to boost collagen, hydrate, relax wrinkles and improve skin. A niche includes healthy Skin Brushes. The company webstore offers free standard shipping and a VIP Club. Products also available on Amazon.