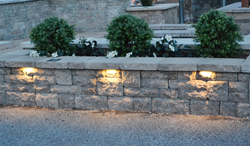 "Our LED lighting is specifically designed to add flare and ambiance to existing structures without redesigning or rebuilding structures that are already in place."
North East, Maryland (PRWEB) May 19, 2014
i-lighting™, the leading manufacturer of extremely easy-to-install, reliable and cost-effective exterior and interior LED lighting, has introduced the new iluma Hardscape Retrofit Lighting System to enable quick and easy installations with existing hardscape applications ranging from masonry and retaining walls to outdoor kitchens, pillars, columns and complete landscapes.
"With the new iluma Hardscape Retrofit Lighting System, our professional customers and do-it-yourselfers alike now have the ability to revisit hardscape projects and seamlessly integrate lighting with near invisible results," says Scott Holland, president & CEO of i-lighting, LLC. "There's no need to tear down or redo hours of masonry work. Our LED lighting is specifically designed to add flare and ambiance to existing structures without redesigning or rebuilding structures that are already in place."
"I immediately realized this was the answer to my lighting problems," adds Scott Shorrow of Landscape Concepts Inc. in Frederick, Md. "It just seemed so easy to use. I couldn't believe no one else had ever thought of this. All you have to do is plug it together and install. There are no excessive set up times. The wiring is thinner and as a result easier to hide and the LED bulbs emit a warm, yellow glow. I was sold the moment I started playing with the individual kits."
In addition to providing the perfect lighting solution for existing hardscape and masonry applications, the iluma Hardscape Retrofit Lighting System can also be combined with the company's iluma Rail, Stair & Landscape Lighting Kits to light entire outdoor areas including gardens, pathways, decks, porches and other outdoor structures. Using the proprietary LED Lighting Simplified connection technology, the iluma Hardscape Retrofit Lighting System is designed with sleek and easily-concealed 5mm wiring and available in several configurations. This includes standard or customizable lengths with an option of 3'', 6'' or 9'' light strips spaced evenly apart.
Another benefit to contractors, builders, homeowners and do-it-yourselfers alike, is i-lighting's ongoing commitment to meeting customer needs for customized results. For the best outcomes, users need only email or fax their plans to i-lighting and the company will specify the project's lighting at no additional cost and normally within 48 hours. Purchase orders are also commonly filled and shipped within two days.
Furthermore, all i-lighting's LED lighting systems use approximately 80 percent less energy than incandescent bulbs and are rated for 12-plus years of operation if used 24-hours-a-day/seven-days-a-week. Other i-lighting system benefits include a:
Photocell technology that senses ambient light and automatically turns lights on and off for both safety and security, while adding convenience and reliability
Lighting design that does not create heat and as a result is safer for pets and children, while attracting less insects
System operating on a DC power supply to create minimum line voltage drops and shocking hazards.
For more information on i-lighting's new iluma Hardscape Retrofit Lighting System or the company's iluma Rail, Stair & Landscape Lighting Kits please visit http://www.i-lightingonline.com or call 888-305-4232.
About Our Company
i-lighting™ was founded to provide easy-to-install, cost-effective and extremely reliable interior and exterior lighting solutions to home owners, contractors and builders. Since 2005, the company has developed and sold thousands of custom-designed DeckLighting, StairLighting and LandscapeLighting Systems to building and maintenance professionals as well as home owners and do-it-yourselfers. For more information, please visit http://www.i-lightingonline.com or call 888-305-4232.
# # # #