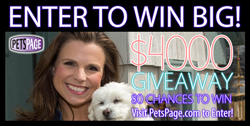 'It's super easy for pet lovers to enter and win up to two of the 80 prizes featured in PetsPage.com's $4,000 Spring Prize Giveaway,' said Bostick. 'Anyone can become a member of PetsPage.com and enter our prize giveaways for free!'
Boise, Idaho (PRWEB) May 20, 2014
Karen Bostick, CEO and Founder of PetsPage.com, an online pet community for social pet lovers, is pleased to partner with over 40 up and coming pet industry brands to giveaway 80 prizes to community members in PetsPage.com's $4,000 Spring Prize Giveaway. Pet Lovers from around the world can enter at PetsPage.com for free to win up to two Prizes detailed at PetsPage.com/SpringPrizeGiveaway.
PetsPage.com hosts regular multi-partner prize giveaways to engage its community members while helping them find out about the benefits of up and coming and innovative pet brands available in the $58 billion a year pet industry.
"I love giving away great prizes to PetsPage.com's community and promoting the benefits of some of the industry's best pet products and services. It truly is a win-win for everyone!" said PetsPage.com's CEO and Founder, Karen Bostick.
With over 612,000 pet loving social media followers and Facebook page posts reaching 2 million every week, PetsPage.com's online community and multi-partner prize giveaways are the perfect opportunity for up and coming pet brands to boost their online following of potential customers and overall brand awareness. Pet brands who partner with PetsPage.com receive benefits that include 30 days of online social media, video and e-mail promotions using direct advertising and word of mouth marketing to increase their product's awareness and credibility by association with PetsPage.com.
"It's super easy for pet lovers to enter and win up to two of the 80 prizes featured in PetsPage.com's $4,000 Spring Prize Giveaway," said Bostick. "Anyone can become a member of PetsPage.com and enter our prize giveaways for free!"
Bonus entries are awarded to PetsPage.com's weekly leaderboard winners who earn points for completing certain tasks including daily updates, photos and comments.
The promotion runs May 1st to May 31, 2014. Pet businesses partnering with PetsPage.com will be featured on a variety of social sites including PetsPage.com, Twitter.com, Facebook, Pinterest and Instagram. For more information or to enter PetsPage.com's $4,000 Spring Prize Giveaway, please visit petspage.com.
About PetsPage.com
PetsPage.com is an online social pet community where pet lovers from around the world come to socialize, share and smile. It's like Facebook for pets, but with exciting twists where members earn points and win prizes for their pets. Pet businesses can upgrade to a business page on PetsPage.com for free to engage one on one with over 5,000 members. PetsPage.com is the fastest growing online pet community on the web today.
PetsPage.com's Pet Owner Awareness Campaign, which focuses on increasing awareness of advanced veterinary care and veterinary specialists, will be the focus of a documentary for Public Television and a commercial for Animal Planet that begins airing to television viewers nationwide this summer. PetsPage.com's Find-A-Vet Specialist online look-up will launch in conjunction with the documentary and national social media campaign, giving pet owners easy access to find veterinary specialists in their local communities.
About Karen Bostick
Karen Bostick founded PetsPage.com after her beloved matlipoo dog, Tinks, almost died because she was not aware of veterinary specialists. Bostick began sharing Tinks' story to increase awareness of vet specialists on social media in early 2013. Their social media followers grew at a rapid pace and Bostick realized this was the opportunity she was looking for to get the message out about her mission, and the idea for PetsPage.com was born. In addition to being the CEO and Founder of PetsPage.com, Bostick is the Radio Host of Pet News on Sirius XM 143, Editor of PetsPage Weekly Press and Social Pet SuperStars of PetsPage and Online TV Host of The PetsPage Show. Please visit PetsPage.com/About-Us for more information or to join PetsPage.com's fast-growing online social pet community.
PetsPage.com is based in Boise, Idaho.