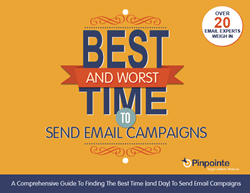 An excellent, common sense and easy to read guide that includes feedback from over 20 industry experts - every email marketer should read this!
Santa Clara, CA (PRWEB) May 19, 2014
Pinpointe, a leading cloud-based email marketing company, announced today the limited-time, no cost release of a complete online email marketing guide that reveals the best time and day to send email marketing campaigns. Normally priced at $49, the all-inclusive guide taps into the knowledge and research data of over 20 email marketing experts including Copyblogger, Litmus, KISSmetrics, and more.
Based on analysis of nearly a billion emails and interviews, Pinpointe's informative guide focuses on real results derived from research and statistics and breaks down the different factors that come into play when sending marketing email campaigns. What readers will gain is valuable insight into key send time/day differentiators such as: how mobile vs. desktop results compare and how B2B and B2C times differ.
"One of the most common questions the Pinpointe team gets asked is, 'When is the best time to send an email campaign to receive the best possible response?'" explained Eryn Branham, Marketing Content Manager for Pinpointe. "In response, we (Pinpointe) created an easy to follow guide that walks our customers through finding an optimal send time that works for their business and target market."
To download your free Guide: The Best and Worst Times to Send Email Campaigns
– Download Email Marketing Guide.
About Pinpointe
Pinpointe is the #1 ranked cloud-based email marketing for business communications by http://www.topseos.com. Intuitive and flexible, Pinpointe is ideal for customers who need more than email marketing but aren't ready for the complexity of marketing automation.
To experience Pinpointe for free, call (800) 920-7227 or visit our website for a full feature one month trial.