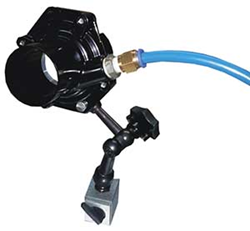 (PRWEB) May 20, 2014
Nex Flow™ Mounting Systems for air knives and amplifiers provide a convenient and flexible way to utilize their popular products for blow-off and cooling applications.
All Mounting Systems are made of powder coated steel, ideal for rugged application in difficult environments.
One knob controls the infinitely variable flexibility of the system placement and secures it in place after the air knife or amplifier is properly positioned. Optional magnetic base can secure it to a magnet-accepting platform. Rugged and secure positioning.
Nex Flow™ Air Knives are used for blow off and cooling and can reduce compressed air as much as 90%. Air Amplifiers are annular blow off and cooling systems with the same or better costs savings and can also be used for venting applications.
The Mounting Systems allows for flexible and portable use in manufacturing operations. Adaptable for other uses as well. One knob loosens the setup for portioning and when tightened, it safely secures it in position.