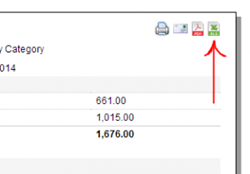 It is all about making the day to day chores of property managers easier.
Grants Pass, OR (PRWEB) May 21, 2014
Rentec Direct Property Management software is at it again, burning the midnight oil to fulfill customers requests. With Rentec it is now quick and easy to output reports directly into an Excel spreadsheet. When opening up any system report, in the upper-right corner you'll see a new output option. The XLS icon, when clicked, will download a file in XLS format directly to your computer. From there, simply click the file to open it in Microsoft Excel. While using Microsoft Office 2007 or later, you will be notified when opening the file that the file was not made in Excel, which is normal. Just click "Yes" to continue opening the file.
To use the file in any other spreadsheet application, or online in Google Docs, it is recommended to open the file in Microsoft Excel, then re-save it as a XLS or XLSX file, and use that newly saved file for third parties.
When asked why Rentec Direct puts so much effort into customer requests and improving there software? Nathan Miller, President of Rentec Direct replied, "It is all about making the day to day chores of property managers easier."
To learn more about Rentec Direct or to obtain a 30-day full featured free trial of the software, visit http://www.rentecdirect.com/.
About Rentec Direct
Rentec Direct provides cloud based rental software solutions for property managers and landlords. Other popular solutions offered by Rentec include tenant ACH payment processing, tenant screening, and online syndication of vacancies to more than twenty popular websites.