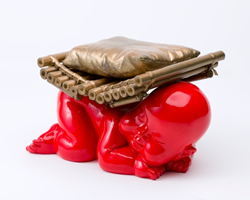 Poller and Clyatt bring West to East
NY - Hong Kong (PRWEB) May 20, 2014
New York sculptors Leah Poller and Bob Clyatt dazzled visitors on opening night at Asia Contemporary Art Show (ACA), where 10,000 art viewers from around the world were lured from Art Basel by 75 international galleries, making this the biggest art week of the year for Asia's burgeoning art scene.
Poller, who has participated in 2 prior exhibitions, brings works from the "101 Bed Collection", a group of bronze sculptures exploring the theme of the bed in all its narrative and imaginary forms. "Asia has greatly influenced my new work in which an amalgam of Western thinking confronts Asian iconography to create a hybrid. As an example, the Baby Buddha Bed Pillow, was inspired by a 15th century porcelain pillow exhibited in the permanent collection of the Shanghai Art Museum. By depicting the ancient Buddha as brilliantly laquered enfant on all fours, supporting a bamboo head rest in golden bronze, I draw from past and present, symbolizing a vibrant transformation of an ancient culture. The coveted red lacquer could just as easily reference a Ferrari and the baby Buddha is an Eastern religion being reborn in the Western world, states Poller.
Clyatt, combining skills as a figurative sculpture and ceramist, uses a range of traditional Asian ceramic firing methods in his figurative works inspired by his years living in Asia. His seated figures and figurative fragments provide depth and serenity in a world of hyper activity, drawing from Clyatt's affinity for Eastern teachings. "Making the figure work as contemporary art is my ongoing challenge, and I am heartened by the way my work is received here where old and new collide so poignantly." His new series, Hands, unveiled in Hong Kong, has traditionally-fired hands holding various 3-D printed elements including a bright red envelope of cash and a rose.
"We are delighted to have the caliber of Clyatt and Poller in Hong Kong at ACA for a repeat performance, proof positive that the distance traveled to reach an exciting and growing audience is of significant value. Their work is monumental in quality and content, while scaled to appeal to the broadest segment of the Asian art market," states Mark Saunderson, of ACA.
In fact, visitors swell the city's ranks, coming from throughout the Pacific rim, Europe and the States as Hong Kong takes its place as one of the three top art markets, and dousing any concerns that Hong Kong lacks cultural content.
For both Poller and Clyatt, Asia has become the next door neighbor, and as audiences respond to their cross fertilization over cultural barriers as only art can make happen, their commitment to develop a presence in China is matched by the wholehearted reception to their work.
About the ART ALLIANCE:
The Art ALLIANCE of New York celebrates its 25 years of international activity with its presentation "NEW YORK - HONG KONG" at the Asia Contemporary Art Exhibition (Hong Kong, October, 2013). Directed and curated by Leah Poller, sculptor and arts activist, with more than 120 exhibitions to her credit, the Art Alliance collaborates internationally with artists, galleries and institutions by offering its unique "inclusive eye" as testimony to the power of art to unite cultures worldwide.
About BOB CLYATT:
Bob Clyatt grew up roaming the countryside of Northern California, ending up studying art at UC Berkeley in the late '70s. Absorbing the zeitgeist of that time and place created a desire for fusion in Bob's work – ancient and modern, organic and technological. Using clay as his central medium connects Bob to the oldest art-making traditions, with a range of techniques such as assemblage and the introduction of modern materials and gesture to bring about a fusion in the work to give it a contemporary voice. Bob has eight years of formal sculpture education at the Art Student's League of New York, under the guidance of Barney Hodes. He lives and works in Rye, NY.
http://www.clyattsculpture
bob(at)clyattsculpture(dot)com
About LEAH POLLER
Leah Poller was trained as a sculptor at the Beaux Arts Academy of Paris, France where she resided thereafter for 20 years. Following an accident in her studio, she began the series entitled "The 101 Bed Collection", in which she examines our relationship with the bed in all its visual, literary and narrative forms. More than a third of our life is spent in bed, yet rarely has it been examined with such humor, pathos, whimsy, sarcasm, tragedy and passion as in her 3-dimensional bronze interpretations. Poller's work has been exhibited extensively in galleries, museums and institutions worldwide (US, France, Mexico, China). In addition, Poller is known for her reinvention of the classic portrait, including her recent tribute to internationally renowned Asian-American saxophonist Fred Ho. Poller lives and works in Harlem, New York.
http://www.leahpoller.com
e: leahpoller(at)aol(dot)com