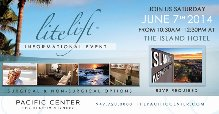 Newport Beach, CA (PRWEB) May 22, 2014
Pacific Center for Plastic Surgery, located in Newport Beach, CA., is well known for their informational events focused on educating the community about the LiteLift™, an innovative minimally invasive facelift procedure targeted at the aging face, as well as other facial rejuvenation treatment options. Their upcoming event is being held at the beautiful Island Hotel in Newport Beach on Saturday, June 7, 2014 from 10:30am-12:30pm.
"We pride ourselves on hosting events throughout the year where people can learn about options for treating the aging face, as well as meet our doctors and former patients," mentions practice administrator, Mary Saadat.
To learn more or to RSVP to the LiteLift™ event, please visit:
https://pacificcenterplasticsurgery.com/litelift-event/.
Those attending the "Refresh Your Look" LiteLift™ event in Newport Beach will see a full presentation about the innovative facelift procedure and learn its benefits over a traditional facelift. Guests will hear directly from Dr. Horowitz and Dr. Nichter, as well as former patients who have had the procedure, and have the opportunity to participate in a Q&A session. In attendance will also be Pacific Center for Plastic Surgery's registered nurse Linda Scott and aesthetician Pamela Lee. They will be providing valuable information on non-surgical procedures and treatments targeted at facial rejuvenation such as lasers, injectables and skincare.
This is a reservation only event with limited seating available. Those interested in attending should call Pacific Center for Plastic Surgery directly: (949) 720-3888.
About Pacific Center for Plastic Surgery:
Pacific Center for Plastic Surgery, located in Newport Beach, California is headed by two of Orange County's word-class plastic surgeons, Dr. Larry Nichter and Dr. Jed Horowitz. Both doctors have over 27 years of experience specializing in cosmetic procedures such as breast augmentation, breast lift and breast reduction, facelift, fat transfer, mommy makeover, and rhinoplasty. Dr. Nichter and Dr. Horowitz are board-certified by the American Board of Plastic Surgery, and belong to the the American Society of Plastic Surgeons and The American Society for Aesthetic Plastic Surgery, the most exclusive plastic surgery societies in the United States. Dr. Nichter and Dr. Horowitz have received numerous awards over the years for their surgical expertise and patient care.