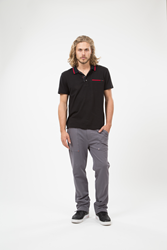 "Our customer needs the choice to go from workout to a meeting. Function meets fashion you could say". Explains Judy Jones, President of CCR BRAND
Venice Beach, California (PRWEB) May 29, 2014
CCR BRAND is riding the wave of this movement and its more than a trend. It's a lifestyle for many and for others its a fashion statement.
"Our customer needs the choice to go from workout to a meeting. Function meets fashion you could say," explains Judy Jones, President of CCR BRAND."We are experiencing a spike in online orders and level of interest that we haven't seen before".
Many appreciate what other brands in the field have started, with eco friendly lines of jumpsuits to yoga wear and track pants, the activewear category has increased 9% and has become the first choice for casual wear and street wear. Style mixed with active wear is the evolution of how baby boomers and millennials alike are presenting themselves. Whether going to the gym or toying with the idea of working out, they want to be fashion friendly in their active wear.
Remember the days of only having to decide which jean to wear, washed out denim vs. dark denim?
Having a decent selection of a workout friendly wardrobe takes a little more planning.
Yoga Pants...Check
Hoodie..........Check
Leggings.......Check
Jumpsuit.......Check
With the combination of bamboo and cotton, CCR BRAND jumpsuits or onesies as some prefer, are so comfortable but yet better fitting than most. Modal is also one of the preferred fabrics due to its quality and comfort.
Each of the garments have enough design to be fashion forward and look great at the gym or your next stop. Other pieces from the collection are also enjoying the trend in active wear and crossing over to lounge wear. Mens flat front pant and drop crotch pants are seeing brisk traffic on campus, hiking trails and clubs.